WVU Medicine celebrating Rosenbaum Family House during National Hospitality House Week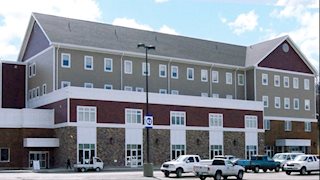 MORGANTOWN, W.Va. – In celebration of the thousands of patients and family members who have been served by Rosenbaum Family House, WVU Medicine is celebrating National Hospitality House Week, July 23-30, with a variety of events.
The celebration will kick off on Monday with a Wish List Drive. Members of the community can participate by donating items on Rosenbaum's Wish List, which includes:
Cleaning supplies – bleach, dishwashing detergent, disinfectant spray, high efficiency laundry detergent, fabric softener sheets, Swiffer floor cleaners with pads, dishwasher liquid
Paper/plastic products – paper towels, hot and cold drink cups (all sizes), plastic baggies (all sizes), coffee stirrers, plastic cutlery, facial tissues, Styrofoam or paper plates, food storage containers, disposable aluminum pans
Basic office supplies – post-it notes, ink pens, staples
Personal hygiene items – liquid hand soap, new combs and hairbrushes, mini/travel size toiletry items
Food – individual coffee creamer, sugar packets, regular and decaffeinated ground coffee, Splenda or other sweeteners, and non-perishable items, like soups, spaghetti sauce, canned vegetables, seasonings, and condiments
New or gently used small bingo prizes
Gift cards to area retailers, like Sam's Club and Walmart
Donations can be dropped off in the lobby of Family House, which is across the parking lot from Ruby Memorial Hospital. Employees are also participating in the Wish List Drive, and the department collecting the most items will receive a pizza party.
Employees and visitors can support Rosenbaum Family House by making a $1 donation for a paper house icon, on which they can write a personalized message. The houses will be available from 11 a.m. to 2 p.m. outside the Ruby cafeteria on Tuesday, Wednesday, and Thursday, as well as the front desk of Family House throughout the entire week. The house icons will be hung in the Family House lobby during the month of August.
Employees and visitors can also donate to the Rosenbaum Family House by purchasing a paper house icon for $1. The houses, which will be on sale from 11 a.m. to 2 p.m. outside the Ruby cafeteria, will be hung in the Family House lobby during the month of August.
Finally, the National Hospitality House Week celebration will conclude with a root beer float party and tours of the Family House, which will be held from 1- 5 p.m. on Thursday.
Rosenbaum Family House serves adult patients and family members of patients receiving treatment at Ruby Memorial Hospital and/or the WVU Cancer Institute. Guests wishing to stay at Family House must live 50 miles or more from Morgantown. Family House charges only $20 per night per room. It costs $40 per night to operate a room, and the balance is covered by grateful guests and generous friends of Family House. Due to the great demand for rooms, Family House always has a waiting list. For more information, visit www.wvumedicine.org/familyhouse.
For more information: Angela Jones-Knopf, Manager of Media Relations, 304-293-7087