WVU Medicine CEO named Grassroots Champion for hospital advocacy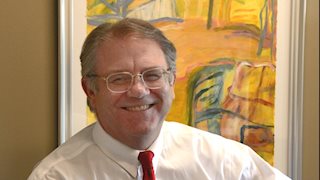 MORGANTOWN, W.Va. – WVU Medicine – West Virginia University Health System President and CEO Christopher Colenda, M.D., M.P.H., was nam
ed the 2016 Grassroots Champion by the West Virginia Hospital Association (WVHA) on behalf of the American Hospital Association (AHA).
The AHA presents the prestigious Grassroots Champions Award to one hospital leader from each state to recognize his or her work over the previous year in effectively delivering the hospital message to elected officials; helping to broaden the base of community support for hospitals; and advocating tirelessly on behalf of patients, hospitals, and communities.
The WVHA selected Dr. Colenda for this award due to his dedication to the hospital mission on both the local and the national level.
"Under the leadership of its President and CEO Dr. Christopher Colenda, West Virginia University Health System has developed one of the premier grassroots advocacy programs in the state," Joe Letnaunchyn, president and CEO of the WVHA, said.
"Dr. Colenda is a tremendous example to his staff and community by personally participating in state and federal advocacy events and is a statewide leader in healthcare and business issues. He can always be relied upon to communicate with lawmakers, the media, and the public to deliver the hospital message throughout West Virginia and at the federal level. It is with these accomplishments in mind that the WVHA is honored to recognize Dr. Christopher Colenda as its 2016 Grassroots Champion."
The award was presented to Colenda at the WVHA Board Meeting and CEO Forum on Thursday, May 19.
For more information: Angela Jones-Knopf, Manager of Media Relations, 304-293-7087