WVU Medicine Children's Cleft Lip and Palate Team delivers smiles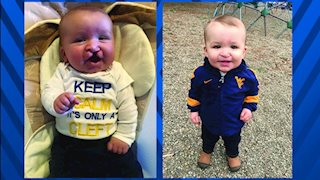 MORGANTOWN, W.Va. – As a labor and delivery nurse in the WVU Medicine Children's Maternal Infant Care Center, Kristen Bennett, R.N., had seen a handful of babies born with cleft lips and palates. At a routine ultrasound appointment during her second trimester, she and her husband learned that their son Lucas would be born with a cleft.
"As soon as they put the ultrasound on his face, I could see it immediately. I see ultrasounds every day, and I knew right away that something just wasn't right," Kristen said. "And, that's when they told me that he would have a cleft lip and possibly a cleft palate."
Ultimately, Lucas was born with just a cleft lip; his palate was intact. Within a couple days of his birth, Lucas was evaluated by Aaron Mason, M.D., a pediatric plastic and reconstructive surgeon and director of the new Pediatric Craniofacial Center at WVU Medicine Children's.
The new center's multidisciplinary Cleft Lip and Palate Team allows children to benefit from the consolidated knowledge of many specialists from different fields. Under the direction of otolaryngologist and facial plastic reconstructive surgeon Mark Armeni, M.D., the Team includes specialists from Neonatology, Otolaryngology, Plastic and Reconstructive Surgery, Oral and Maxillofacial Surgery, Pediatric Dentistry, Orthodontics, Speech Language Pathology, Developmental Pediatrics, Audiology, General Pediatrics, Genetics, Pediatric Psychology, and Social Work.
Since 2001, Dr. Armeni has been the director of the cleft lip and palate team, an integral part of the Department of Otolaryngology. Since his arrival to WVU in 1994, Armeni has provided clinical and surgical care to hundreds of West Virginians with cleft lip and palate.
"Our cleft lip and palate team is a multi-disciplinary group of physicians and medical specialists who tend to the needs of patients born with congenital facial defects," Armeni said. "In addition to performing surgery to restore a normal outward appearance, other conditions may exist, such as problems with feeding, speech, and hearing, which must be identified and corrected. The team follows our patients through adulthood to ensure that any functional or cosmetic issues are fully addressed."
At 4-months-old, Lucas underwent surgery to put his lip together. In approximately four years, he will undergo a second surgery to fix the collapsed portion of his nose, which was caused by the cleft lip, and to make any needed revisions to his lip. After that, he will need a third surgery, during which bone from his hip will be grafted into the roof of his mouth.
In the meantime, Lucas sees Armeni, Dr. Mason, and other members of the Cleft Lip and Palate Team every six months.
"He is an amazing baby. You could not tell that he had surgery. He bounced back so fast," Kristen said. "We worry about him, but he has no idea what's going on. That's what our goal is – to help him lead as normal life as possible, make him think that he is like any other kid. And, he is."
For more information: Angela Jones-Knopf, Manager of Media Relations, 304-285-7259