WVU Medicine Children's Craniofacial Team treats babies with skull abnormalities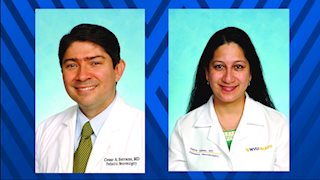 MORGANTOWN, W.Va. – Craniosynostosis – the early closing of one or more of the sutures that separate the plates of the skull – occurs in one out of every 2,500 births, according to the Children's Craniofacial Association. For children in West Virginia and the surrounding region born with this and other anomalies, the Craniofacial Team at the WVU Medicine Children's Pediatric Craniofacial Center can help.
Children with craniosynostosis are best cared for in a multidisciplinary care setting. Cesar Serrano, M.D., a pediatric neurosurgeon, serves as medial director for the team. Dr. Serrano, fellow pediatric neurosurgeon Rabia Qaiser, M.D., and craniofacial surgeon Aaron Mason, M.D., lead the WVU Medicine Children's Craniofacial Team that includes specialists from audiology, behavioral medicine, developmental pediatrics, genetics, pediatric ophthalmology, and social work.
"Although craniosynostosis may be a component of an identifiable syndrome, it more commonly occurs as a single suture fusion. Infants usually have abnormal head shapes identified at or soon after birth, may have developmental delays, and may have associated eye issues," Dr. Serrano said. "Early evaluation, diagnosis, and treatment planning leads to the best outcomes."
Generally, surgery occurs within the first year of the child's life while the skull bones are relatively soft and moldable. Timing of surgery depends on which suture is involved and the child's overall health and development.
"Most parents wish to have surgery performed as soon as the diagnosis is made," Dr. Qaiser said. "Surgery is safer and most successful when done at the proper age. Fortunately, most children need only one surgery, whether endoscopic or open."
In addition to craniosynostosis, the Team also treats infants with oculoauricular verterbral spectrum (OAVS), which includes malformations of the eyes, ears, and spine; microtia, the underdevelopment of the external part of the ear; acquired posterior plagiocephaly, a flat area on the back or side of the head; and other rare conditions.
For more information on WVU Medicine Children's, visit www.wvumedicine.org/childrens.
For more information: Angela Jones-Knopf, Manager of Media Relations, 304-285-7259