WVU Medicine Children's float adds to Rose Bowl pageantry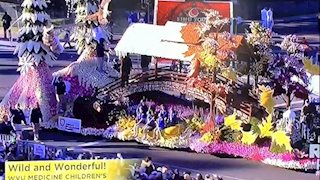 Each New Year's Day, the world turns its attention to Pasadena, Calif., where the Rose Parade® has been dazzling audiences with its floats, bands, and equestrians for more than a century. WVU Medicine Children's became a part of this storied history this past New Year's Day.
The theme for the 127th Rose Parade was "Find Your Adventure." The 55-foot float representing WVU Medicine Children's and its "Wild and Wonderful" home state of West Virginia displayed all the adventures the state has to offer.
Representing the adventures that can be had throughout West Virginia were six former WVU Medicine Children's patients, their families, and the healthcare providers who helped them make it to their next adventures. The patients were: Jordan Beland, 15, of Martinsburg; Justyn Jenkins, 17, of Clarksburg; Samantha Stalnaker, 11, of Mount Nebo; Meg Throckmorton, 19, of Waynesburg, Pa.; Brody Wilmoth, 7, of Morgantown; and Tyler Yost, 8, of Fairmont.