WVU Medicine Children's Pediatric Cystic Fibrosis Program receives accreditation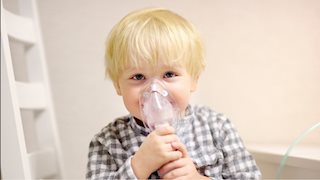 MORGANTOWN, W.Va. – The Cystic Fibrosis Foundation (CFF) has awarded accreditation to the Pediatric Cystic Fibrosis Program at the WVU Medicine Children's Mountain State Cystic Fibrosis Center.
In order to receive accreditation, the program went through a rigorous application process that included a site visit, interviews with the multidisciplinary team, and a review of metrics like lung function, body mass index, and other factors impacting patient health, including quality improvement initiatives, clinical trials research, and community outreach.
"It is a point of pride to be able to provide this standard of care for our patients here," Kathy Moffett-Bradford, M.D., director of the Mountain State Cystic Fibrosis Center, said. "We have worked and dedicated ourselves to becoming better so our patients can be healthier and have better outcomes."
The Mountain State Cystic Fibrosis Center has been part of the national network of Cystic Fibrosis Foundation-accredited care centers since 2000. Its leading-edge research and team approach result in the highest lung function for adults and children with cystic fibrosis in the state. The treatment of cystic fibrosis requires a multidisciplinary approach including respiratory, nutrition, endocrinology, clinical trial, pharmacy, and psychological services.
"We are passing more kids and healthier kids into our adult program because they are living longer," said Dr. Moffett-Bradford. "That is what I'm most proud of when you look at the progress we have made with our whole team."
To learn more about cystic fibrosis or the Cystic Fibrosis Foundation, please visit www.cff.org.
WVU Medicine Children's – currently located on the sixth floor of J.W. Ruby Memorial Hospital, WVU Medicine's flagship hospital – provides maternal, infant, and pediatric care for West Virginia and the surrounding region, giving care to high-risk mothers, premature infants, and children with life-threatening conditions through adolescence to adulthood. In 2020, WVU Medicine Children's will move into a new tower and ambulatory care center to be attached to Ruby Memorial. For more information, including ways to support the $60-million capital campaign for Children's new home, visit wvumedicine.org/childrens.
For more information: Heather Sammons, Communications Specialist, 304-285-7256