WVU Medicine Children's performs first transcatheter pulmonary valve replacement in the state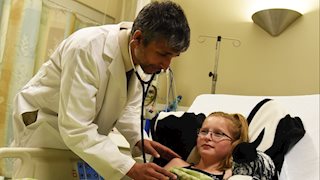 'Revolutionary' procedure helps kids with rare heart defect
MORGANTOWN, W.Va. – Mckinsey Armentrout, 11, of Clendenin, was already special – she and her sister Makayla are monoamniotic identical twins, a very rare event in which two infants share the same amniotic sac in the womb. She's now also the recipient of the first transcatheter pulmonary valve implantation in the state of West Virginia, performed at WVU Medicine Children's.
Mckinsey was born with tetralogy of Fallot, a congenital heart defect in which the pulmonary artery, the pathway to the lungs, is too narrow. She had open-heart surgery with Robert Gustafson, M.D., surgeon-in-chief at WVU Medicine Children's, as an infant, then again when she was 8 to replace her pulmonary valve. Three years later, her cardiologist in Charleston noticed that one leaflet of her replacement valve was stuck, allowing blood to flow backward and wearing out the right ventricle of her heart.
Fortunately, the WVU Medicine Children's interventional cardiology team can now replace the pulmonary valve through a small catheter inserted in the groin. It does not require open-heart surgery, and the patient can return home as early as the next day.
"It's revolutionary," Nasser Moiduddin, M.D., known to his patients and colleagues as Dr. Nasser, the WVU Medicine Children's interventional cardiologist who performed Mckinsey's transcatheter procedure, said. "This is life-changing for a population of our patients. We're able to save them more operations, scars, and long hospital stays, and all of the risks that go with open-heart surgery. They can come in for a procedure and go home the next day and get back to their lives."
Replacement valves, Dr. Moiduddin said, are like tires. The newer models are getting better "mileage," but they all eventually wear out. Patients like Mckinsey, who are likely to need multiple valves during their lifetimes, can benefit greatly from a minimally invasive option.
Moiduddin and his team placed the SAPIEN XT transcatheter heart valve, manufactured by Edwards Lifesciences Corporation, which was just approved by the FDA for adult and pediatric pulmonary valve use in March 2016. The procedure requires access to a transcatheter aortic valve replacement program, such as the one at the WVU Heart and Vascular Institute.
"This requires a good pit crew," Moiduddin said, continuing the tires analogy, "including an amazing anesthesiologist in David Rosen, M.D., pediatric intensive care physicians, cardiologists, nurses, radiology technicians, and support from both of our exceptional pediatric cardiothoracic surgeons, Dr. Gustafson and Fawwaz Shaw, M.D., to ensure good care."
Moiduddin also encourages adults who had surgery for tetralogy of Fallot as children to follow up with a congenital heart defect specialist. If their pulmonary valve is affected, they may be able to benefit from this procedure as well.
Mckinsey's procedure went smoothly, and she was able to leave the hospital the following day with a new pulmonary valve and only two small pricks in her leg. While her valve will likely need to be replaced again someday, her future procedures can be performed the same minimally invasive way.
"She would not be here if it weren't for these doctors and nurses," Jason Armentrout, Mckinsey's dad, said.
"Dr. Nasser and Dr. Gustafson are amazing," Samantha Armentrout, Mckinsey's mom, said. "I love this hospital."
For more information: Sarah Wisniewski, Communications Specialist, 304-293-1428