WVU Medicine Children's performs infant jaw lengthening procedure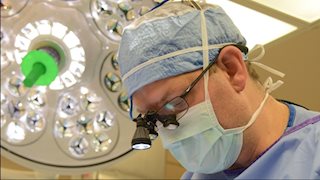 MORGANTOWN, W.Va. – WVU Medicine Children's has added a new service to treat a rare birth defect that requires the care of a Level IV Neonatal Intensive Care Unit.
Surgeons at WVU Medicine Children's recently performed the hospital's first mandibular distraction surgery to treat mandibular hypoplasia — a short chin that can cause serious breathing problems in infants.
A baby's lower jaw typically has a growth spurt between seven and 10 weeks of pregnancy, creating space for the tongue to rest on the floor of the mouth. In rare cases the jaw doesn't grow, causing a visibly short chin that pushes the normal-sized tongue to the back of the mouth, blocking the infant's airway. Without intervention, the child would suffocate. In mild cases, simple interventions can move the tongue out of the way until the jaw naturally lengthens in the first months of life. In severe cases, surgical intervention is needed to lengthen the jaw and clear the airway.
Mandibular distraction is a procedure that surgically lengthens an infant's lower jaw. A surgeon cuts both sides of the infant's jawbone and places a device that gradually draws the front of the jaw forward, causing new bone to form in the gap and lengthening the jaw bone. It takes about 10 days to lengthen the jaw, eight weeks at home for the new bone to harden, and then the device is removed.
It is difficult to estimate how many infants in West Virginia might benefit from this service because families may have had to leave the state to find treatment in the past.
"Mandibular hypoplasia can be devastating for these infants. Providing this procedure at our hospital allows our littlest West Virginians to receive the care they need closer to home," Aaron Mason, M.D., plastic and craniofacial surgeon at WVU Medicine Children's, said.
Infants who receive mandibular distraction typically do very well with no lasting setbacks from the procedure. Children with short chins do have a two-in-three chance of also having a cleft palate that the craniofacial team at WVU Medicine Children's will repair when the infant is 12 to 18 months old.
A short chin can be a symptom of a larger syndrome or may occur independently. If an underdeveloped chin is identified on an ultrasound during pregnancy, the infant can be monitored by obstetricians and delivered at WVU Medicine Children's, where the craniofacial team can address any concerns after delivery that may arise.
--WVU MEDICINE--
For more information: Angela Jones-Knopf, Media Relations Manager, 304-293-7087