WVU Medicine emergency medicine physician offers tips for a safe Independence Day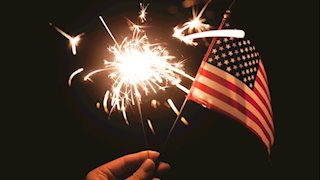 BRIDGEPORT, W.Va. – The Fourth of July holiday is right around the corner. As it approaches, it is important to keep safety as a first priority. There are dangers that come along with celebrating, and it is important to take the necessary precautions to prevent accidents from occurring.
"Whether you're spending the day on the water or enjoying a nice family barbecue, dangers can be found all around you," Christopher S. Goode, M.D., WVU Medicine emergency medicine physician at Ruby Memorial Hospital and United Hospital Center, said. "The Fourth July, although a time of celebration, comes with many safety risks. The launching of fireworks, traveling, boating, and consumption of alcohol can all have severe consequences if not properly handled."
Traveling
There will be a lot of people traveling during the Fourth of July holiday this year, so it cannot be stressed enough how important it is to follow a few safety tips. Remember to stay off cell phones and other devices while driving.
"Always be aware of your surroundings, and buckle your seatbelt," said Dr. Goode. "It is estimated that seatbelts can save 155 lives during holidays like the Fourth of July."
Boating
One of the favorite ways of celebrating the Fourth of July is by getting the family together and hitting the lake. People enjoy taking their boats on the water, especially on a hot, holiday weekend. This can become dangerous when people start to neglect safety rules and regulations.
The number of boating related injuries this time of year has been on the rise. Goode says that between 2013 and 2014, the number of deaths increased eight percent. People will neglect simple safety laws such as wearing a life jacket, which statistics consistently show that 80 percent of those who perished in boating accidents were not wearing. Boaters must also stay aware of others on the water. There will not only be other boats but also kayakers and swimmers.
Fireworks
"In 2013, fireworks accounted for 11,400 injuries and eight deaths in the United States," Goode said. "People need to remember that fireworks are explosives and should be handled with caution. That is why I always recommend that you should go see a fireworks display."
However, not everyone will heed such advice. Therefore, here are a few simple safety measures you can take to keep yourself and others around you safe when launching fireworks this Fourth of July:
Remember to read all instructions before ever lighting a firework.
Always launch off a flat surface and safely away from any bystanders, houses, or flammable materials.
Fireworks are to only be handled by adults; never should these be given to children, regardless of the type. A sparkler burns at 2,000 degrees Fahrenheit, which can melt some metals and easily injure a child's hand.
Drinking and Driving
"Drinking and driving can be a deadly combination when mixed together. People under the influence of alcohol are 11 times more likely to be in a car accident than those who are not," Goode said. "In 2014, there were approximately 9,967 people killed in drunken driving incidences in the United States."
If you want to keep yourself and others on the road safe this holiday weekend, then remember these rules:
Always have a designated driver who can take you home, if your holiday celebrating includes the consumption of alcohol.
A cab is also an option if you cannot find someone sober to drive you.
"The July Fourth celebration of our nation's independence is one we all look forward to; just remember no matter how you choose to celebrate this great day, take a few moments to make safety part of your holiday plans," Goode said.
For more information: Matt Chisler, Director of Public Relations at United Hospital Center, 681-342-1611