WVU Medicine experts to discuss digestive diseases on "Doctors on Call"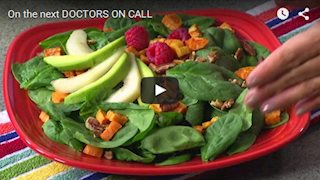 Live show to air at 8 p.m. Oct. 8 on West Virginia Public Television
MORGANTOWN, W.Va. – Your gut does a lot for you. It turns your food into energy, filters waste, and even tips you off to health issues. Keep it healthy! WVU Medicine experts will discuss digestive diseases and more on the next episode of "Doctors on Call," which will air live at 8 p.m. on Thursday, Oct. 8 on West Virginia Public Television.
During live interviews, John Nasr, M.D., WVU Medicine digestive diseases specialist, will discuss causes and treatments of acid reflux, and Cristina Pastuch, M.D., pediatric and internal medicine specialist at Morgantown South, will talk about teenage smoking cessation. In honor of Breast Cancer Awareness Month, Hannah Hazard, M.D., chief of the WVU Medicine Department of Surgery Division of Surgical Oncology, will appear live to discuss developments in breast cancer care, and Cristiane Ueno, M.D., plastic surgeon at WVU Medicine, will talk about breast reconstruction options.
"DOC Talk," the call-in portion of the show, will provide viewers with the opportunity to ask questions of two WVU Medicine digestive diseases experts. Dr. Nasr will join Joel Reynolds, M.D., to answer questions on air.
The "DOC Demo" and "DOC List" segments will feature topics usually kept behind the bathroom door – but important to good health - the Squatty Potty and whether the color of waste matters. Get ideas for fall-friendly high-fiber recipes during the "DOC in the Kitchen" segment.
WVU Medicine physicians John Phillips, M.D., and Carl "Rolly" Sullivan, M.D., are hosting the show. Three additional physicians – Kathy Moffett, M.D., Mahreen Hashmi, M.D., and Joe Prudhomme, M.D. – will be featured in segments throughout the show.
Highlights will be tweeted live on Thursday evening (@DOCWVU). Viewers may also get updates, suggest topics, and provide feedback anytime on Facebook (www.facebook.com/DoctorsOnCallWVU).
Now in its 24th year, "Doctors On Call" transitioned from a weekly, half-hour-long, live call-in show to an hour-long magazine style show last year. The new "Doctors On Call" airs quarterly. To see the last episode, visit the WVU Medicine YouTube channel at http://www.youtube.com/c/WVUMedicine.
--WVU MEDICINE--
15-147
For more information: Amy Johns, Director of Public Affairs and Creative Services, 304-293-7087
sw: 10-05-15