WVU Medicine Expo set for Oct. 2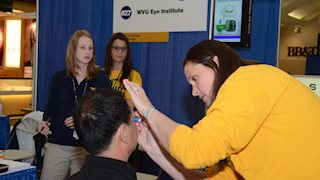 The WVU Medicine 2015 Expo will be from 8 a.m. to 6 p.m. Friday, Oct. 2, at the Morgantown Mall. Featuring 47 exhibitors, the event will provide screenings, assessments, answers to health questions and flu shots.
Hundreds of WVU Medicine health experts will be available. Some of the topics they will be available to discuss are general health, head and neck health, hearing aids, intrabeam radiotherapy system, kids health, lung health, neurological disease, nutrition and exercise for children, spine pain and Urgent Care. Attendees can also "Talk with a Pharmacist."
Some of the available services are tests for blood pressure, body fat, body mass index, bone density, electrocardiograms (EKGs), glaucoma, glucose, pulmonary function, vision, and gallbladder and abdominal aorta ultrasounds.
Free screenings being offered at special times include: balance (8 a.m. to noon), clinical breast exams (8 a.m. to 1 p.m.), hearing loss (8a.m. to 1 p.m.), spine pain (8 a.m. to 2:30 p.m.) and mammograms (8 a.m. to 1 p.m.). Mammograms are billed to private insurance, Medicaid or Medicare, if available. Mammograms for women who do not have insurance will be covered by grant funds.
WVU Medicine's Clinical Laboratories have teamed up with the Rotary Club of Morgantown to offer the following blood screenings from 6:30 a.m. to noon: basic health profile, $35 (fast 12 hours for best results); PSA, $15; vitamin D, $15; hemoglobin A1c, $10; and thyroid stimulating hormone, $10. Pre-registration is preferred; call 800-982-8242. Cholesterol screenings will be offered throughout the event for $10, and flu shots will be available for $25.
There also will be a drawing to win a Fitbit. For more information, view the flyer.