WVU Medicine Expo to be held October 14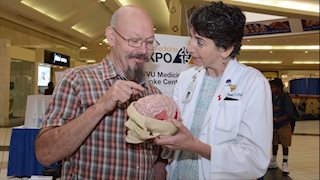 MORGANTOWN, W.Va. – How are you feeling today? Whether you're feeling good or could be better, swing by the Morgantown Mall between 8 a.m. and 6 p.m. on Friday, Oct. 14 for the 2016 WVU Medicine Expo!
Free health screenings, a flu shot, and a drawing for a $250 Heart-Healthy Gift Basket are just a few of the attractions.
The Expo will feature 54 exhibitors representing departments and programs at WVU Medicine and affiliated organizations. Get face-to-face advice from hundreds of WVU Medicine physicians, nurses, pharmacists, therapists, and other health professionals.
Some of the free health screenings and assessments being offered throughout the event include allergy, blood pressure, body fat, body mass index, bone density, glaucoma, glucose, pulmonary function, traumatic brain injury, and vision.
Free screenings being offered at special times include balance (8 a.m.-noon), clinical breast exams (8 a.m.-2 p.m.), and spine pain (8 a.m.-noon and 1-5 p.m.).
Don't miss the CarFit assessments being offered for mature drivers from 2-6 p.m. Just drive your car through the CarFit station, located in front of the mall, and receive a 12-point check on how well you and your car work together to reduce the risk of injury.
Bonnie's Bus will provide mammograms from 8 a.m.-2 p.m. The screening will be billed to private insurance, Medicaid, and Medicare, if available. Mammograms for those who do not have insurance will be covered by grant funds.
WVU Medicine's Clinical Laboratories will offer the following blood screenings from 6:30 a.m.-noon: basic health profile, $35; PSA, $15; vitamin D, $15; hemoglobin A1c, $10; and thyroid stimulating hormone, $10. Pre-registration is preferred; call 1-800-982-8242.
Cholesterol screenings will be offered throughout the event for $10, and flu shots will be available for $25.
Attendees will also have the opportunity to complete medical power of attorney and living will forms, hear about employment opportunities at WVU Medicine, and learn how to access their health information online through MyWVUChart.
Find out more about the 2016 WVU Medicine Expo at www.wvumedicine.org/expo, and look for a special WVU Medicine Expo insert in The Dominion Post on Tuesday, Oct. 11.
For more information: Sarah Wisniewski, Communications Specialist, 304-293-7087