WVU Medicine Expo to be held October 2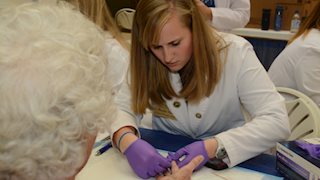 MORGANTOWN, W.Va. – The human heart is about the size of your fist. At 13 feet high and 26 feet long, the MEGA Heart is a little bit bigger.
Come walk through the world's largest inflatable heart exhibit at the 2015 WVU Medicine Expo at the Morgantown Mall, which will be held 8 a.m. to 6 p.m. Friday, Oct. 2.
The WVU Heart Institute will showcase the MEGA Heart exhibit to educate the public about the number one killer in America--heart disease. Visitors can step inside the human heart, learn about cardiovascular functions, observe examples of various types of heart disease, and see displays of some of the latest medical treatments for heart problems.
The Expo will feature 47 exhibitors, including the MEGA Heart, representing departments and programs at WVU Medicine and affiliated organizations.
Attendees can get free health screenings, talk to health experts, get a flu shot, and two lucky attendees will win Fitbit wireless activity trackers.
"The annual WVU Medicine Expo is one of the largest community health events in the region focused on prevention and early detection. It's an important event – one that saves and improves lives," Stephanie Bock, WVU Medicine director of community relations, said. "Hundreds of WVU Medicine health experts will be available to provide health screenings and assessments and to answer questions."
Free health screenings, including blood pressure, body fat, body mass index, bone density, electrocardiograms, glaucoma, glucose, pulmonary function, vision, and ultrasounds of the gallbladder and abdominal aorta, will be available all day.
Screenings available at special times include balance (8 a.m.-noon), clinical breast exams (8 a.m.-1 p.m.), hearing loss (8 a.m.-1 p.m.), and spine pain (8 a.m.-noon and 1-5 p.m.). The clinicians providing clinical breast exams at the Expo can order a mammogram. Participants' insurance companies will be billed; payment options are available.
Flu shots will be offered all day for $25 to attendees 8 years old or older by WVU Medicine Cheat Lake Physicians. Cholesterol screenings will be available for $10.
WVU Medicine's Clinical Laboratories have teamed up with the Rotary Club of Morgantown to offer blood screenings from 6:30 a.m. to noon. Basic health profiles are available for $35, PSA for $15, Vitamin D for $15, hemoglobulin A1C for $10, and thyroid stimulating hormone for $10. Pre-registration is preferred; call 1-800-982-8242.
Health experts will be on hand to take questions about topics such as child development and age-appropriate games, medications, head and neck health, spine pain, and much more.
Expo attendees can also meet the Hearts of Gold Service Dogs, learn about tobacco cessation, complete a medical power of attorney form and living will, and explore employment opportunities at WVU.
Look for a special WVU Medicine Expo insert in The Dominion Post on Tuesday, September 29.
--WVU MEDICINE--
15-142
For more information: Angela Jones-Knopf, News Service Coordinator, 304-293-7087
sw: 09-21-15