WVU Medicine Fairmont construction making progress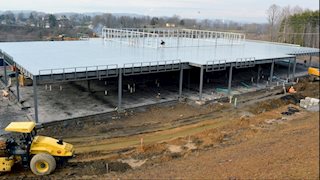 Construction is progressing on the new $13.9 million (not including real estate purchase) WVU Medicine clinic that is being built in Marion County, off the Downtown Fairmont Exit 136 of I-79, on the Fairmont Gateway Connector.
The concrete and steel shell of the structure has been erected with work also continuing on a road to the clinic.
The facility, which will be owned and operated by University Health Associates (UHA), will be 25,000 square feet, and feature 39 exam rooms and three procedure rooms.
It will offer:
urgent care
primary care
obstetrics/gynecology
orthopaedics (hand and joint)
nephrology
gastroenterology
behavioral medicine
vascular surgery
general surgery
The building is scheduled to open in late summer 2017. To see a CONNECT photo gallery of construction work from Monday, Jan. 16, click here.
For some renderings of the inside and outside of the facility, click here. Visit the WVU Medicine Fairmont web page for a list of Frequently Asked Questions about the facility.