WVU Medicine Jefferson Medical Center plans operating room expansion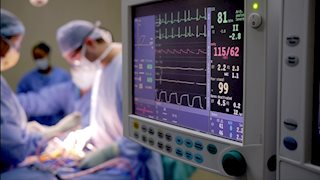 RANSON, W.Va. -- WVU Medicine Jefferson Medical Center announced plans today (Feb. 23) to expand and update the hospital's operating rooms and consolidate surgical services into a more efficient suite on the first floor.
The project, scheduled to begin within the next few days, will include renovations to the existing operating rooms and construction of new spaces to accommodate orthopaedic surgeries and other complex procedures now being performed at Jefferson Medical Center.
Existing first floor office space will also become part of the new 5,400-square-foot surgical suite, which includes a surgical preparation (pre-op) and recovery area, more staff support space, and a large visitor waiting room. The project budget is $928,000 with a fall 2017 completion date.
"The project scope includes consolidation of existing surgical services into a suite of spaces designed for ease of patient flow, enhancements to staff efficiency, and a more collaborative environment for patients, families, physicians, and staff to function," Neil McLaughlin, vice president of operations, said.
Jefferson Medical Center is the only hospital in the area offering anterior approach total hip replacement and femtosecond laser-assisted cataract surgery, McLaughlin said. "As we add physicians, the expanded surgical suite will allow us to offer an even greater variety and number of surgical procedures here in Jefferson County," he added.
When completed, the new surgical suite will be named the Langlet Family Surgical Suite. Jules F. Langlet, M.D., was a physician and surgeon on the medical staff at Charles Town General Hospital and Jefferson Memorial Hospital from 1957 until his retirement in 2006.
"We want to properly acknowledge Dr. Langlet's decades of service as a dedicated physician in Jefferson County, as well as the support and generosity our hospital has received from the Langlet Family," Tim Devine, M.D., medical staff president, said. "This naming symbolizes our sincere thanks to the Langlet Family for their continued support of our hospital and its mission to provide the best in healthcare services to area residents."
For more information: Teresa E. McCabe, University Healthcare Vice President of Marketing and Development, 304-264-1223