Nurses find balance, fun during Nurses Week activities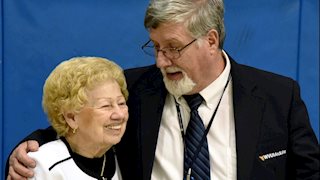 WVU Medicine joined the nation in celebrating Nurses Week May 6-12. The theme of the week was "Nursing: The Balance of Mind, Body, and Spirit," and WVU Medicine's Recruitment and Retention Council offered a variety of activites to help nurses find their balance -- from drumming circles, to self-care workshops, to blessing of the hands ceremonies and more. For a CONNECT photo gallery celebrating the week, click here.
Along with the activities, WVU Medicine-WVU Hospitals honored its top nurses of the year at a luncheon held on May 11. President and CEO Albert L. Wright, Jr., addressed the group and Doug Mitchell, vice president and chief nursing officer, received a special gift from the Recruitment and Retention Council.
Among the honorees were Christy Orndorff, the 2017 Nurse of the Year, and nominees Francis Boyle, Nancy Gifford, Annina Guzek, and Samantha Keener. Also recognized was Lisa Henry, the 2017 Magnet® Nurse of the Year. Read the press release for more details.
After the luncheon, Violet Whipkey, who works on the adult unit at Chestnut Ridge Center, celebrated her 90th birthday with a surprise party at Chestnut Ridge. Read The Wright Stuff to learn more about Whipkey.