WVU Medicine nurses recognized by the Future of Nursing West Virginia's '40 Under 40'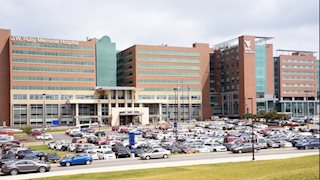 MORGANTOWN, W.Va. – Fourteen WVU Medicine nurses have been selected for the Future of Nursing West Virginia's inaugural "40 Under 40" awards.
The Future of Nursing West Virginia is an action coalition charged with transforming healthcare through nursing by implementing the recommendations of the Institute of Medicine Future of Nursing report. It is led by three co-sponsoring organizations, the West Virginia Nurses Association, the West Virginia Hospital Association, and the West Virginia Organization of Nurse Executives.
The purpose of the awards is to engage, support, and develop the next generation of West Virginia nurse leaders to step into their potential as board members, mentors, and health policymakers. In addition to being under 40 years old, criteria for the awards include significantly or uniquely contributing to leadership through clinical practice, education and teaching, administrative governance, and/or healthcare innovation; demonstrating leadership/contributions in community affairs, nursing professional organizations, and/or assisting others' growth and development in these areas; and positively promoting and advancing the nursing profession in the community (local/regional/national/global) through volunteerism, outreach, or legislative/policy development work.
The 14 WVU Medicine nurses receiving this year's awards include:
Kendra Barker, D.N.P., WVU Student Health
Kathryn Deremer, M.S.N., J.W. Ruby Memorial Hospital's 8 Northeast Unit
Brittney Hall, B.S.N., Ruby Memorial Hospital house supervisor
Heather Higgins, B.S.N., Ruby Memorial Nursing Resource Pool
Leah Knaggs, B.S.N., Wound Care and Infection Prevention
Kelly Lemon, M.S.N., WVU Medicine Obstetrics and Gynecology
Amy Litwinovich, B.S.N., M.B.A., director, Adult Cardiac Nursing
Tiffany Miller, B.S.N., nurse manager, WVU Medicine Children's Pediatric Intensive Care Unit
Mary Arose Mitchell, M.S.N., Ruby Nursing Resource Pool
Cari Morgan, B.S.N., M.B.A., Ruby house supervisor
Tiffany Muhly, M.S.N., nurse manager, Ruby Neurology/Neurosurgery Units
Mark Smith, M.S.N., M.B.A., Ruby house supervisor
Melissa Watson, B.S.N., Ruby house supervisor
Charles Wisilosky, B.S.N., Ruby house supervisor
"As we strive to improve the health of West Virginians and all we serve through excellence in patient care, research, and education, it is our charge to be leaders in healthcare in West Virginia. These 14 nurses are the epitome of leadership in nursing, and we know that they will accomplish great things for the field, as well as the state, in the years to come," Doug Mitchell, B.S.N., M.B.A., WVU Medicine-WVU Hospitals vice president and chief nursing officer, said. "We are so proud of these nurses for receiving the '40 Under 40' award, and we look forward to seeing them accomplish even greater things in the future."
All of the "40 Under 40" award winners will be recognized at the 2017 Future of Nursing West Virginia Gala on Aug. 19 at the Embassy Suites in Charleston.
For more information: Angela Jones-Knopf, Manager of Media Relations, 304-285-7259