WVU Medicine, Rotary sponsor health fair in Martinsburg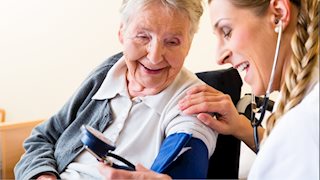 MARTINSBURG, W.Va. – WVU Medicine, the Martinsburg Noon Rotary Club, and The Wellness Center will sponsor the 33rd Annual Community Wellness Screening from 6-10 a.m. on April 14 at the Dorothy McCormack Center on the Berkeley Medical Center campus.
Bring the entire family, and take advantage of these discounted wellness screenings. Individuals must be 12 years or older to participate. There is a $40 discounted rate for the comprehensive blood test. Blood pressure checks, BMI and body fat testing, and a fall risk assessment are also included with the screening. An optional Prostate Specific Antigen (PSA) test is available for men for an additional $35.
Pre-registration and accompanying payment is required to participate in this event. Screening is limited to the first 500 registrants. The registration deadline is April 6, and forms are available at The Wellness Center. Appointment preference will be granted based on the order that registration forms are received.
This year, test results will be available on MyWVUChart, a free, easy, and secure way to view your health information and communicate with your healthcare team. All you need is internet access and email. To sign up, visit www.MyWVUChart.com.
For more information on the 33rd Annual Community Wellness Screening, call The Wellness Center at Berkeley Medical Center at 304-264-1232, or email Dana DeJarnett at ddejarnett@wvumedicine.org.
For more information: Teresa McCabe, Vice President of Marketing and Development, 304-264-1223