WVU Medicine rural nephrology clinics cross 50,000 visits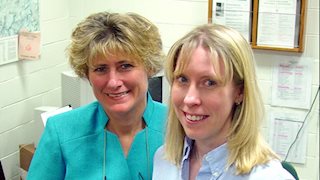 MORGANTOWN, W.Va. – The WVU Medicine rural nephrology program recently provided its 50,000th patient visit. The program offers treatment and risk management for kidney disease at 12 outreach clinics around the state and one in western Maryland.
"When I came here from Detroit, my first patient had driven 75 miles from Beverly to see the nephrologist. I was floored," Rebecca Schmidt, D.O., director of the program, said. "That patient had been diagnosed with a kidney disease 10 years before, but he'd never followed up because it was just too long to drive. I remember saying to my boss, 'Why don't we go down and see those patients there?'"
Now, Dr. Schmidt and her colleagues see nearly as many patients at outreach clinics as they do at the Physician Office Center in Morgantown. Schmidt estimates that patients would have had to drive more than 6.5 million miles and spend close to $1 million in gas to receive the care delivered at the rural clinics since their inception in 2003.
Many of those patients simply would not have sought care until their kidney disease was acute and possibly in need of emergency actions, noted nephrologist Beth Pellegrino, M.D., who travels throughout north central West Virginia several days each week.
Many West Virginians are at risk for kidney disease. Diabetes, high blood pressure, and cardiovascular disease are all risk factors. Unfortunately, many people don't realize they have kidney disease because it has no symptoms until it is too late to treat it.
Through the rural nephrology clinics, patients at risk for kidney disease can see a nephrologist close to home. With regular care, patients can manage their kidney disease and, if necessary, transition smoothly into outpatient dialysis instead of starting it as an emergency in the hospital. The percentage of patients in West Virginia who started dialysis in an outpatient setting rose from 74 percent in 2004 to 89 percent in 2011, making the state comparable to the national average. With proper care, some patients won't need dialysis at all.
"There are a lot of patients that we've been able to keep from needing dialysis because we were there to help them manage the potential risk factors," Schmidt said. "We all do it because we want to be part of the solution to difficult access to care here in West Virginia."
WVU Medicine has nephrology clinics in Keyser, Clarksburg, Elkins, Farmington, Fairmont, Grafton, Bruceton, Moorefield, Webster Springs, and Weston in West Virginia, and in Oakland, Maryland.
For more information: Amy Johns, Director of Public Affairs, 304-293-7087