WVU Medicine's Dr. A.J. Monseau to serve as head team physician and medical director for WVU Athletics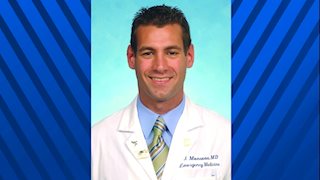 MORGANTOWN, W.Va. – A.J. Monseau, M.D., WVU Medicine Emergency Medicine and Sports Medicine physician, has been selected to serve as head team physician and medical director for WVU Athletics.
"WVU Athletics are a point of pride for all of us in West Virginia, and as a WVU alumnus, Dr. Monseau embraces the Mountaineer spirit," Albert Wright, president and CEO of the West Virginia University Health System, said. "An athlete himself, Dr. Monseau has dedicated his career to caring for athletes, so we know he will do a great job."
Last year, Dr. Monseau served as the team physician for WVU Men's Basketball. He also served as team physician for USA Wrestling at the 2016 Olympic Games in Rio de Janeiro, Brazil.
As head team physician and medical director for WVU Athletics, Monseau will lead the University's staff of team physicians and will work in conjunction with the athletic training staff to provide healthcare to all student-athletes. This includes injury prevention, treatment, rehabilitation, education, and counseling.
"Medical care for our student-athletes is of the utmost importance to us," Director of Athletics and Associate Vice-President Shane Lyons said. "Athletics has had a long-standing relationship with WVU Medicine that has spanned generations, and we look forward to that great relationship continuing for many years to come. I want to thank Albert Wright, (WVU Medicine Vice President and Chief Ambulatory Officer) Darin Rogers, and (WVU Health Sciences Vice President and Executive Dean) Clay Marsh for all their help, and we are excited to have A.J. in this new role."
Originally from the Northern Panhandle, Monseau received his medical degree from and completed his residency training at the WVU School of Medicine. He then completed fellowship training in primary care sports medicine at the University of Michigan School of Medicine. He returned to his alma mater upon completion of his fellowship in 2011.
Currently, Monseau is an associate professor in the WVU Department of Emergency Medicine. In addition to working as an attending physician in the J.W. Ruby Memorial Hospital Emergency Department, he also sees sports medicine patients through WVU Medicine Orthopaedics. He is board certified in emergency medicine and primary care sports medicine.
Athletics have always been a part of Monseau's life. After completing a three-sport career at Wheeling Park High School, Monseau carried his love of sports through his undergraduate education, during which he competed on the West Liberty University (then West Liberty State College) Wrestling Team for his father, who is a National Wrestling Hall of Fame coach. Though he gave up competing when he began medical school, he made sure to choose a specialty that would allow him to remain connected to competitive sports.
"As a native West Virginian and WVU fan, it is an honor to be chosen for this position. I was fortunate enough to go into a field that affords me the opportunity to combine my two passions: medicine and sports, and now I have the privilege of leading the medical care for Mountaineer athletics," Monseau said. "I'm grateful to Mr. Lyons and Mr. Wright for the faith they have in me, and I hope to make them proud. I look forward to working with the other medical staff and athletic trainers to provide our athletes with the best possible care. Let's go, Mountaineers!"
For more information: Angela Jones-Knopf, Manager of Media Relations, 304-285-7259