WVU Medicine Stroke Center, Heart and Vascular Institute recognized for excellence in stroke and heart failure care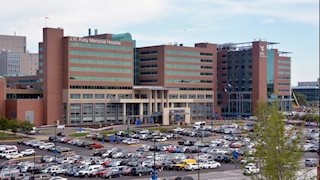 MORGANTOWN, W.Va. – The WVU Stroke Center and the WVU Heart and Vascular Institute Center for Advanced Heart Failure and Cardiovascular Research have been recognized by the American Heart Association/American Stroke Association's Get With The Guidelines® quality-improvement program for their excellence in care and commitment to improvement.

The Stroke Center received the Get With The Guidelines-Stroke Gold Plus Achievement Award with Target: StrokeSM Honor Roll Elite Plus. The Stroke Center has been a Gold Plus recipient for seven years. The award is given to hospitals that consistently meet Get With The Guidelines-Stroke achievement indicators and quality measures.
Target: Stroke Honor Roll Elite Plus recognizes hospitals that reduce the time between the patient's arrival at the hospital and treatment with the clot-buster tissue plasminogen activator, or tPA. A short "door-to-needle" time is imperative to preserve brain function after a stroke. In 2016, the WVU Stroke Center's average door-to-needle time was 39 minutes, 13 minutes below the national average for participating hospitals. Nationally, participating hospitals treated 44.9 percent of patients in less than 45 minutes, while the Stroke Center beat 45 minutes for 77.6 percent of patients in 2016.
The Center for Advanced Heart Failure and Cardiovascular Research earned the Heart Failure Gold Plus Quality Achievement Award with Target: Heart FailureSM Honor Roll by meeting specific quality achievement measures for the diagnosis and treatment of heart failure patients, including evaluation of the patient, proper use of medications, and aggressive risk-reduction therapies. Before patients are discharged, they also receive education on managing their heart failure and overall health, a scheduled follow-up visit, and other care transition interventions.
The Target: Heart Failure Honor Roll designation indicates a hospital that works to reduce hospital readmissions for heart failure patients and helps patients improve their quality of life in managing this chronic condition.
"These awards recognize the dedication of the very highly skilled providers who deliver world-class care to our stroke and heart failure patients day in and day out," Albert Wright, Jr., president and CEO of WVU Medicine-West Virginia University Health System, said. "We are proud of our employees and the hard work they put in every day, and we are honored to receive both of these awards."
Get With The Guidelines is the American Heart Association/American Stroke Association's hospital-based quality improvement program that provides hospitals with tools and resources to increase adherence to the latest research-based guidelines. Developed with the goal of saving lives and hastening recovery, Get With The Guidelines has touched the lives of more than 6 million patients since 2001. For more information, visit heart.org.
For more information: Angela Jones-Knopf, Manager of Media Relations, 304-293-1413