WVU Medicine supports Santucci in Olympic bid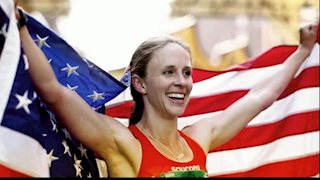 MORGANTOWN, W.Va. – WVU Medicine is proud to partner with local marathon runner Clara Santucci as she participates in the U.S. Olympic Trials in hopes of joining the U.S. Olympic Team in the 2016 Summer Olympics in Rio de Janeiro, Brazil.
Santucci, a native of Doddridge County, has the chance to be one of less than a dozen West Virginians to participate in the Olympic Games. At West Virginia University, she was an All-American runner and was named the 2009 NCAA Mid-Atlantic Region Track Athlete of the Year. She broke into the marathon running elite at the 2011 Boston Marathon, where she was the third American female to finish and 16th on the international field. Most recently, she won the 2015 Pittsburgh Marathon.
"Clara Santucci is a great example of someone who has worked hard and lived a healthy lifestyle and used that to reach her goals," Albert Wright, president and CEO of WVU Medicine - WVU Hospitals, said. "We at WVU Medicine are proud to support Clara, and we hope to cheer her on all the way to Rio."
The U.S. Olympic Trials will take place on Feb. 13 in Los Angeles. Santucci easily met the qualifying time to participate in the trials, but to join the Olympic Team, she will need to be in the top three out of nearly 200 women.
Santucci will keep a weekly blog on the WVU Medicine Cabinet at wvumedicine.org/clara, where readers can follow her training and other preparations for the Olympic Trials.
"WVU Medicine has really been great support for me during my training to allow me to chase this dream of being an Olympian," Santucci said. "I'm glad to have WVU Medicine by my side in this journey."
Santucci's dreams are big, but she also wants to help others achieve their goals. In coming months, she may work with WVU Medicine to host running clinics, wellness education, and outreach events.
"I'm a big advocate of just being healthy overall," Santucci said. "You don't have to want to be an Olympian to be healthy. I hope everyone gets out and runs or does something for their own health, simply because it improves their life."
--WVU MEDICINE--
For more information: Amy Johns, Director of Public Affairs and Creative Services, 304-293-7087