WVU Medicine to hold open interview sessions for positions at Ruby Memorial, outpatient clinics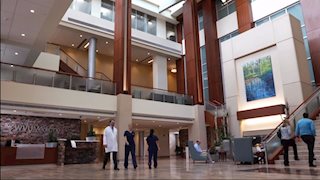 400+ openings in a variety of positions
MORGANTOWN, W.Va. – As WVU Medicine's Morgantown-based healthcare services continue to grow, so does the need for dedicated staff to provide high quality care to patients from all across West Virginia and the surrounding region. To meet that need, WVU Medicine is conducting open interview sessions from 8 a.m. to 1 p.m. and 2 to 6 p.m. on Monday, May 2 at the WVU Erickson Alumni Center.
The 400-plus available jobs include full-time and part-time positions at Ruby Memorial Hospital and Morgantown-area outpatient clinics in nursing, customer service, dietary, laboratory, housekeeping, radiology, and many more.
"We're experiencing a period of unprecedented growth because our patient volumes are regularly hitting record levels. So when we say that we have hundreds of jobs available, we mean that. That's not a number we're randomly throwing out there," Albert Wright, president and CEO of WVU Medicine-WVU Hospitals and COO of WVU Medicine-West Virginia University Health System, said. "As more and more people from throughout the state and region seek us out for care, we need to expand both in our physical footprint and in the number of professionals providing and supporting that care to best meet the needs of our patients."
With such a high number of open positions available, WVU Medicine Human Resources staff have increased their recruitment efforts to reach people who are not necessarily familiar with Morgantown or West Virginia. To assist in those efforts, a video has been produced to show people what WVU Medicine, Morgantown, and West Virginia can offer potential employees. That video can be viewed online at www.wvumedicine.org/careers.
Among those featured in the video is Taylor Troischt, M.D., a pediatrician at WVU Medicine Cheat Lake Physicians. In the video, Dr. Troischt said, "This place will surprise you. It's a great place to live. It's a great place to work. It's a growing community. It's a progressive community. It's a nice mix of people. So the question is not 'Why you'd come?' it's 'Why would you not come?'"
Those interested in attending the open interview sessions are strongly encouraged to fill out an online application at www.wvumedicine.com/careers in advance. In addition to the application, candidates can see the list of open positions and job descriptions and learn about benefits, professional development, and the Morgantown area by visiting the site.
For more information: Angela Jones-Knopf, Manager of Media Relations, 304-293-7087