WVU Medicine to kick off 23rd annual "Walk 100 Miles in 100 Days®"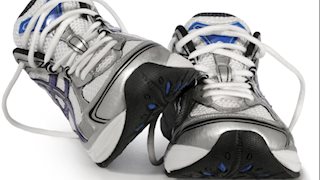 Register by April 14 to participate
MORGANTOWN, W.Va. – With spring approaching, it's time to start organizing your walking team. The Wellness Center at WVU Medicine's Health Sciences Campus will start its annual "Walk 100 Miles in 100 Days®" campaign on Monday, April 17.
Now in its 23rd year, the program encourages participants to develop the habit of walking at least one mile a day as a form of exercise. This year's program will run from April 17 through July 25.
"Last year, we had approximately 5,000 people in a sustained exercise program, including more than 4,000 employees and family members participating, and nearly 1,000 from the community, making Walk 100 Miles in 100 Days® the largest exercise program in the state," Dave Harshbarger, wellness manager, said.
This year, participants can track and record all miles completed without a cap. In previous years, participants could only log a maximum number of miles per week.
Sedentary lifestyle is a major risk factor for developing heart disease. West Virginia typically ranks near the top of the list, having more heart disease per capita than any other state.
"Regular exercise is a way to prevent heart disease, as well as obesity, another problem in West Virginia," Harshbarger said. "This is a great opportunity to get regular exercise, do something healthy with friends and family, and have fun."
The kick-off walk will take place at 9 a.m. on Friday, April 14, beginning in front of J.W. Ruby Memorial Hospital. All are welcome to gather in the lobby and then go for a one-mile walk around the hospital campus (weather permitting).
Participants can sign up individually or as teams. Organizations and businesses are encouraged to sign up teams. The registration deadline is April 14.
For more information, call Harshbarger at 304-293-2520. Registration information is available online at wellness.wvumedicine.org.
For more information: Sarah Wisniewski, Communications Specialist, 304-293-7087