Back to

News
WVU Medicine welcomes oncologist to cancer center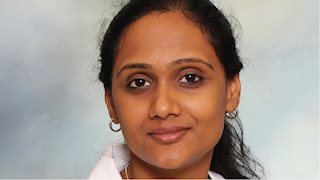 MARTINSBURG, W.Va. - WVU Medicine Berkeley Medical Center and University Health Associates welcome Sowmini Medavaram, M.D., hematologist/oncologist, to the medical staff of the WVU Cancer Institute in Martinsburg.
Dr. Medavaram received her Doctor of Medicine from Mamata Medical College, N.T.R. University of Health Sciences in India. She completed an internal medicine residency at Newark Beth Israel Medical Center in New Jersey followed by a fellowship in hematology/oncology at Stony Brook University Hospital in New York.
Medavaram will provide hematology/oncology care at both Berkeley Medical Center and Jefferson Medical Center. She also serves as an assistant professor for the WVU School of Medicine.
The WVU Cancer Institute is located in the McCormack Center on the Berkeley Medical Center campus, 2000 Foundation Way, Suite 2600 in Martinsburg with a satellite clinic at Jefferson Medical Center. For more information or to schedule an appointment, phone 304-267-1944.
--WVU Medicine—
For more information:
Teresa McCabe, Vice President of Marketing & Development, 304-264-1223,