WVU Medicine-WVU Hospitals Leadership Scholarship winners announced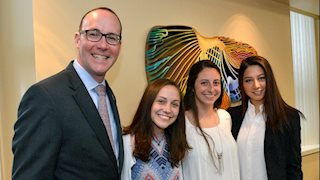 MORGANTOWN, W.Va. – Three graduates of Morgantown High School are the recipients of the 2016 WVU Medicine-WVU Hospitals Leadership Scholarship.
Each award winner earned a one-time $1,000 scholarship for use at any college or university. This annual program is open to children of current, non-faculty employees at WVU Medicine's Ruby Memorial Hospital, Physician Office Center, and various outpatient clinics.
The winners are:
To qualify for the scholarship, students had to demonstrate leadership in school and/or community activities, quality performance in extracurricular and volunteer programs, and high academic performance. They also had to submit an essay detailing an important leadership experience.
Photo caption: Albert L. Wright, Jr., president and CEO of WVU Medicine-WVU Hospitals and COO of WVU Medicine, poses with 2016 WVU Medicine Leadership Scholarship winners, from left to right, Alexa Jade Harris, Abigail Snitz, and Amy Pei.
For more information: Angela Jones-Knopf, Manager of Media Relations, 304-293-7087