WVU Medicine-WVU Hospitals Leadership Scholarship winners announced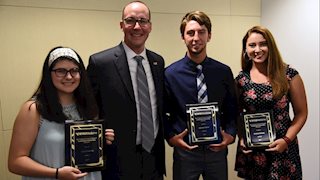 MORGANTOWN, W.Va. – Three local high school graduates are the recipients of the 2017 WVU Medicine-WVU Hospitals Leadership Scholarship.
Each award winner earned a one-time $1,000 scholarship for use at any college or university. This annual program is open to children of current, non-faculty employees at WVU Medicine's J.W. Ruby Memorial Hospital and various outpatient clinics.
Albert Wright, West Virginia University Health System president and CEO, announced the awardees:
University High School graduate Kristen Falconi is the daughter of Deborah Falconi, M.S.N., R.N., director of oncology services at the WVU Cancer Institute. She plans to major in international politics and economics and minor in vocal performance at Penn State University-University Park Campus.

Allison Patrick, a graduate of Morgantown High School, is the daughter of Maria Patrick, a nurse educator in the WVU Medicine-WVU Hospitals Center for Education and Organizational Development. She will attend High Point University in North Carolina, where she will study elementary education.

East Fairmont High School graduate Andrew Slusser is the son of Jennifer Slusser, R.N., an operating room nurse in the Same-Day Surgery Center at Ruby Memorial. He plans to study actuarial science at Ball State University in Indiana.
To qualify for the scholarship, students had to demonstrate leadership in school and/or community activities, quality performance in extracurricular and volunteer programs, and high academic performance. They also had to submit an essay detailing an important leadership experience.
For more information: Angela Jones-Knopf, Manager of Media Relations, 304-285-7259