WVU Medicine-WVU Hospitals named a 2016 Best Workplace for Men in Nursing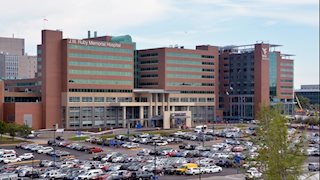 MORGANTOWN, W.Va. – The American Assembly for Men in Nursing (AAMN) has named WVU Medicine-WVU Hospitals one of its 2016 Best Workplaces for Men in Nursing.
The purpose of the award is "to recognize employers that have implemented significant efforts in recruiting and retaining men in a workplace culture supportive of men in nursing at all levels of nursing practice." WVU Hospitals also received the award in 2010.
Currently, there are 1,853 nurses employed at WVU Medicine-WVU Hospitals, and of those, 10.95 percent are men.
To be considered for the award, WVU Medicine-WVU Hospitals submitted a portfolio detailing its efforts in meeting the needs of men in nursing. Examples of efforts included recruitment materials, career fairs, public relations events, historical evidence demonstrating an increase in the number of men in nursing, orientation and continuing education materials that are gender neutral as related to nursing professionals, and evidence of involvement of men in nursing in organizational committees affecting nursing practice.
In their praise of WVU Medicine-WVU Hospitals, the AAMN reviewers wrote, "The evaluation process is based on 19 quality metrics which agencies must meet or exceed to be recognized." They added that WVU Medicine-WVU Hospitals "clearly meets or exceeds the evaluation criteria as a Best Workplace for Men in Nursing."
"I am very proud of this latest recognition in our division. I think it helps illustrate a general openness here," Doug Mitchell, R.N., B.S.N., M.B.A., WVU Medicine-WVU Hospitals vice president and chief nursing officer, said. Mitchell, who has 28 years of leadership experience in clinical nursing services, added, "As a man in nursing, which still is a significantly minority position, I personally have benefited from the culture here. It's a culture that values everyone – all genders, sexual orientations, races, ethnicities, religions, ages, etc."
WVU Medicine-WVU Hospitals also holds the state's only Magnet® designation from the American Nurses Credentialing Center. Magnet designation helps consumers locate healthcare organizations that have a proven level of excellence in nursing care. Independent research shows there are clear benefits to hospitals that receive Magnet status and to the communities they serve. Fewer than 400 of the nearly 6,000 hospitals in the U.S. have received Magnet designation.
"The nursing culture here is built on innovation, quality care delivery, and nursing excellence, and we provide care that is based on evidence-based practices and research," Mitchell said. "Our nurses are dedicated to excellence in all aspects of the nursing profession."
With the construction of the southeast tower at J.W. Ruby Memorial Hospital set to be completed in the coming months, WVU Medicine-WVU Hospitals is currently looking to hire hundreds of nurses to meet current and future demands for care. Qualified applicants who agree to a two-year commitment are eligible for a $10,000 signing bonus.
"It's an exciting time here. There isn't a day that goes by that we aren't busy, and we recognize the critical role that our nurses play in meeting the ever-increasing demands for the care we provide," Mitchell said. "We strongly encourage any R.N.s that are looking for jobs or considering a job change to apply to join our team."
The Best Workplaces for Men in Nursing Award was presented yesterday during the opening evening of the 41st AAMN conference in Miami.
For more information: Angela Jones-Knopf, Manager of Media Relations, 304-293-7087