WVU neuroscientist awarded for research in human-machine teaming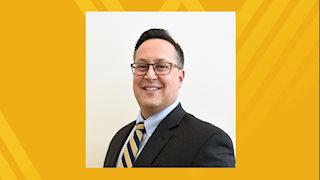 MORGANTOWN, W.Va. – Victor Finomore, Ph.D., director of Human Performance and Applied Neuroscience at the WVU Rockefeller Neuroscience Institute and his previous team at the U.S. Air Force Academy received the 2018 Parasuraman Award for Scientific Impact at the second International Neuroergonomics Conference at Drexel University in June for their preliminary work on human-machine teaming and trust in automation.
"In any team interaction, you need to have good shared situation awareness," Dr. Finomore said. "You need to understand your environment, what your goal states are, and how to adapt. Humans and machines interact with the world very differently. Machines process information very quickly and logically with unique sensors, whereas humans are better suited for unexpected situations while taking contextual information into account. For human-machine teams to be effective, we need to find ways to develop and maintain shared situation awareness."
One approach to gain insight into the state of the human is to use neurologic and physiological indicators to examine trust and attention in autonomous machines. In this study, Finomore and his team of undergraduate and post-doctoral students tested the human response to autonomous machines in both simulated and real-life scenarios, including measuring human response while driving a Tesla Model X automated car.
Finomore's research has both civilian and military applications. Information gained from this study can be used to learn about efficient physiological sensors, appropriate analytics to derive meaning, and most effective augmentation strategies to improve human performance with applications in athletics, opioid recovery, patient recovery, and many other areas.
"Much of this translates to my position here at the Rockefeller Neuroscience Institute," Finomore said. "We are looking at understanding the physiology and the sensors we can use to model humans and improve performance. We're working with the Comprehensive Opioid Addiction Treatment clinic (at WVU Medicine's Chestnut Ridge Center) to give wearable sensors and smartphones to patients to provide a snapshot of them in their daily lives and understand the physiology of recovery."
Finomore began work on this four-year project at the Air Force Academy Warfighter Effectiveness Research Center and will continue to provide guidance and analysis through his resources at the WVU Rockefeller Neuroscience Institute. Funding for the project is provided through the Air Force Office of Scientific Research.
For more information: Heather Sammons, Communications Specialist, 304-285-7256