WVU neurosurgeon and football team physician leaves lasting impact on community, honored with major gift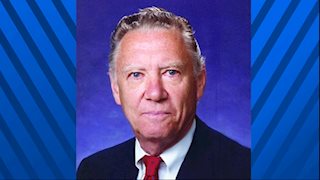 G. Robert "Bob" Nugent, M.D., one of the nation's most respected neurosurgeons and a former physician for West Virginia University's football team, spent 43 seasons tending to the medical needs of Mountaineer football players and was one of the first neurosurgeons to treat patients in what was then the new University Hospital, now the WVU Health Sciences Center.
Dr. Nugent was the founding chairman of the Board of Directors of the West Virginia University Medical Corporation, helped create the four-year medical degree program in the WVU School of Medicine in the 1960s, and from 1970 through 1985 led the Department of Neurosurgery. He was a pioneer in microscopic brain surgery and a world expert in treating trigeminal neuralgia, a painful nerve condition in the face.
Nugent was also a renaissance man, according to his colleagues and friends, and as an amateur astronomer had several telescopes at his house. He enjoyed woodworking and was an accomplished dancer. He was also an amateur boxer, just for the fun of it.
Nugent served the university, most recently spending three mornings per week treating patients, without interruption from July 1961 until his death in November 2016 at age 95. Nugent left a positive impact on WVU Medicine colleagues, trainees and students, as well as members of the football team and staff. He also had the same lasting influence on Harry Lowell, M.D., who trained as a neurosurgery medical resident under Nugent.
In honor of Nugent's passion for the Morgantown community and dedication to medical education, Dr. Lowell made a $1 million gift to the WVU School of Medicine's Department of Neurosurgery to found the "G. Robert Nugent Chair in Neurosurgery." This gift will help reach the goal of $1.5 million needed to establish an endowed chair position.
Referring to Nugent as a "mentor and beloved father figure," Lowell believes no one is more deserving of such a generous gift.
"He was patient-compassionate," said Lowell. "Insurance or means to pay were never considered—he wasn't much interested in money. He was honest and always told the truth even though it was to his detriment. Despite his status and accomplishments, he was humble, didn't brag or act condescending."
Endowed chairs are crucial for recruiting and retaining the highest-quality faculty and for honoring faculty that have made a significant impact. Building a strong base of faculty talent enriches the academic environment, which attracts and inspires motivated students.
The gift was made to the WVU Foundation in conjunction with A State of Minds: The Campaign for West Virginia's University which continues through December 2017. To contribute to this fund and to assist in establishing the endowed chair, please contact Clare Flanagan, assistant vice president for health sciences development, at 304-293-0788 or cmflanagan@hsc.wvu.edu.
-WVU-
CONTACT: Hannah d'Entremont
WVU Health Sciences Office of Philanthropy
304-293-1735 | hgdentremont@hsc.wvu.edu