Back to

News
WVU Public Health students help to improve Honduran community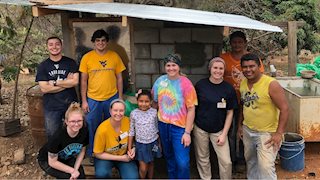 Not all Spring Break trips include sun, sand and surf. Instead, a group of WVU School of Public Health students chose a mountain retreat like no other.
From March 9-15, 13 WVU students traveled to the mountainous region of Honduras to participate in the Global Brigades movement. An international non-profit organization, Global Brigades aims to improve equality of life by empowering communities to resolve global health and economic disparities through student volunteers and local teams.
"As an undergraduate student, I was looking for something that would give me first-hand experience in the public health field while also benefitting other communities," said Fiona Galley, president of WVU's Public Health Global Brigades. "Global Brigades stuck out to me because not only was I able to get that hands-on experience, but I was also able to immerse myself in a new culture while helping communities achieve sustainable development."
Operating across four countries – Honduras, Panama, Nicaragua and Ghana – Global Brigades provides student-led public health, medical, dental, engineering, water, business and legal empowerment programs to meet a community's development goals. West Virginia University provides opportunities for students to be involved with public health, medical and dental service projects.
In rural Honduras, more than 1.25 million people lack access to clean water, and 40 percent of people lack access to improved sanitation infrastructure. WVU students were ready to improve those conditions.
Throughout the week, the students worked to prevent common illnesses by providing in-home infrastructural development, community leader training and health education. The students first learned about the community's challenges and needs, touring the area, conducting household assessments, and meeting with local leaders and families. Once they determined the greatest needs, the students spent three days constructing sanitation stations for two families.
"The work that our groups did while in Honduras is extremely important for the overall health and well-being of the families we worked with and their communities," said Galley. "During this trip, we built sanitation stations consisting of a toilet, shower and sink that connected to the main water source in the community. By providing the families with a clean place to use the restroom, as well as a sink with clean water to wash their hands or clean food items, we can help prevent illness and the spread of disease within the community through basic hygiene practices."
Once the infrastructure was in place, students met with the local Basic Sanitation Committee and Community Health Workers. These groups advocate for public health projects and promote preventative healthcare and overall community health, which helps ensure the long-term sustainability of the students' projects completed.
"Another important aspect of our trip were the relationships our group was able to build with the community members and families that we worked alongside," Galley said. "Because they welcomed us with open hearts into their homes, we were able to gain a full understanding and appreciation of their culture and their lives. We had the opportunity to learn so much from everyone we met in Honduras, allowing us to gain a broader perspective of the world and the beautiful diversity within it."
Six of the 13 WVU participants were School of Public Health students, including Galley, Cassidy Adams, Erin Kersey, Tayler Lee, Allison McCracken and Alison Stottlemeyer. Other participants included students from the Immunology and Medical Microbiology, Medical Laboratory Sciences, Nursing, and Exercise Physiology programs at WVU.
jw/03/20/19
CONTACT:
Kimberly Becker, Director of Marketing and Communications
WVU School of Public Health
304.293.1699; Kimberly.Becker@hsc.wvu.edu