WVU remembers former internationally renowned cardiothoracic surgeon and chair of the Department of Surgery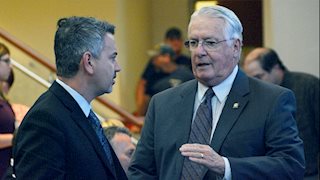 Gordon F. Murray, M.D., joined the West Virginia University School of Medicine in 1985 as division chief of cardiothoracic surgery and rose to lead the Department of Surgery as chair from 1987 to 1998. After a prolonged illness, he passed away with his family at his side on May 21, 2018.
Dr. Murray was internationally known in the field of cardiothoracic surgery serving as president of the Society of Thoracic Surgeons and the Southern Thoracic Surgical Association. He was a beloved WVU Medicine leader and advocate for resident education.
"My wife Jennifer and I have had the honor and privilege of knowing Gordon and his wife, Sharon, as just the kindest and most graceful couple and ardent supporters of West Virginia University," Vinay Badhwar, M.D., the Gordon F. Murray Professor and chair of the Department of Cardiovascular and Thoracic Surgery and the executive chair of the WVU Heart and Vascular Institute, said. "Gordon was completely passionate about resident education, and it was his singular request of me upon my arrival to reactivate the cardiothoracic surgery residency program. He was overjoyed when I recently informed him that our program was approved, and we had selected our first residents starting in July 2018."
A native of Muskegon, Michigan, Murray graduated from the University of Michigan School of Medicine. His surgical residencies were served at Johns Hopkins and Massachusetts General Hospitals. Following service in the United States Navy, he joined the faculty of the University of North Carolina, Chapel Hill, and rose to full professor. At West Virginia University, he served as chair of the Department of Surgery, chief of cardiothoracic surgery, director of the thoracic residency program and chief of surgical services.
Dr. Murray is survived by his wife, Sharon Marsden Murray, daughter Bren and husband Randy, son Bruce, and grandchildren Sharon, Kate, Laura, Will, Kailyn and Conner. Condolences and well wishes to the family can be made by visiting the Legacy site.
In lieu of flowers, remembrances can be made to the Gordon F. Murray Cardiovascular Research Fund that benefits cardiothoracic surgical research, particularly research done by residents. Checks can be made payable to "WVU Foundation - Murray Research Fund" and mailed to Gordon F. Murray Cardiovascular Research Fund, c/o Holly Sabatino, WVU Heart and Vascular Institute, 1 Medical Center Drive, Morgantown, WV 26506-8500. Contributions can also be made online at https://give.wvu.edu/wvumedicine-wvuhvi or by calling 877-791-7153 or 304-284-4095. Please specify the Gordon F. Murray Cardiovascular Research Fund.