WVU reminds campus community of winter weather procedures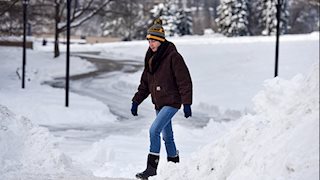 As a new semester begins at West Virginia University on Jan. 9, it's time to remind the campus community about how the University responds when severe winter weather arrives.
Should conditions occur making travel potentially dangerous, both students and employees are reminded to use their own good judgment before venturing out.
"No one should travel in weather conditions in which they feel unsafe," Provost Joyce McConnell said. "If such a circumstance arises, students should notify their professors, and employees their supervisors, if they are unable to come to class or work."
If instructors need to cancel classes, they should make every effort to notify students in advance. "We don't want students out on the road trying to make it to a class that is not being held," she said.
The University counts on professors and supervisors to be understanding of weather-related absences or lateness. "Supervisors should consult with department chairs or Human Resources officials if questions arise," McConnell said.
Supervisors are reminded that, unless the University is closed, employees who do not work their scheduled shift may take annual leave, compensatory time off or— at the supervisors' discretion—be permitted to make up those hours.
Any decision to cancel classes—or to close the University or a divisional campus or office – will be made after several University officials have consulted on the condition of campus roads and grounds as well as conditions in the vicinity. Please note that a declaration of a weather emergency by the governor does not automatically close WVU campuses or offices.
If officials do decide to cancel classes or close the University, students and employees will be informed through many outlets, including:
Mountaineer ENEWS email for faculty and staff
WVU students web page (students.wvu.edu)
These outlets will also be updated with notices about special operating hours for facilities and services such as the Student Recreation Center, Mountainlair, PRT and buses.
Many units remain operational, including dining and residence hall services, roads and grounds crews, libraries and others. Units such as these are reminded to review their emergency internal operating procedures.
WVU Extension Services will follow its internal inclement weather policy, which can be found at http://humanresources.ext.wvu.edu/inclement-weather-policy.
If they haven't already done so, supervisors should inform their staff members who are considered emergency personnel during a facility closure that they would be expected to report to work during a facility/campus closure if at all possible.