WVU Rockefeller Neuroscience Institute neurosurgeon offering new treatment for chronic regional pain syndrome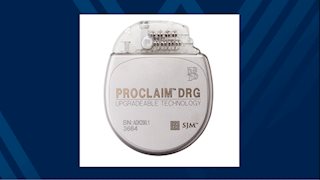 New technology has only been available in the U.S. since 2016
MORGANTOWN, W.Va. – Nicholas Brandmeir, M.D., neurosurgeon at the WVU Rockefeller Neuroscience Institute, is now offering dorsal root ganglia (DRG) stimulation for sufferers of chronic regional pain syndrome (CRPS) type I or II in the leg, groin, and foot.
"Chronic pain can be debilitating and can seriously affect a person's quality of life to the point that he or she may no longer be able to enjoy normal, everyday activities because of it," Dr. Brandmeir said. "Neuromodulation technology, like DRG stimulation, has the potential to get patients off of long-term pain medications and allow them to enjoy life pain free."
Abbott's DRG stimulation, which has only been available in the United States for two years, works by stimulating dorsal root ganglia, structures along the spinal column made up of densely populated sensory nerves that regulate signals and sensations that travel through nerve fibers along the spinal column to the brain. Stimulating these structures can reduce pain in specific locations in the body.
Candidates for this type of therapy are those with previous orthopaedic injuries and/or surgeries who have residual chronic pain, as well as patients who have chronic pain after hernia surgery.
During the procedure, a generator is implanted under the skin in the flank or buttock, and leads (thin insulated wires) are placed in the area of the dorsal root ganglia through a needle. The generator sends out mild electrical pulses through the leads and into the DRG. A handheld patient controller, a remote-control-like device, allows the patient to adjust the strength of the stimulation and to turn it off.
Brandmeir said he has already completed several of these surgeries and has had great success.
"This technology is so new and relatively rare, many people may not know that it is available here at WVU Medicine," he said. "We want people to know that cutting-edge treatments like this one can be performed in West Virginia. You do not have to leave the state or region to get this kind of advanced care."
For more information on neuromodulation procedures, like DRG stimulation, offered at WVU Medicine, visit http://wvumedicine.org/rni/patient-care/neuromodulation.
For more information: Angela Jones-Knopf, Manager of Media Relations, 304-285-7259