WVU's Class of 2017 transitions to the next adventure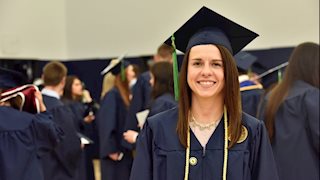 The 2017 commencement weekend was a whirlwind of activity! More than 4,500 students earned their diploma and the rights and honors associated with that.
The university chose a School of Medicine Medical Laboratory Science program student as one of three highlighted during the week preceding commencement celebrations:
"For Chelsea Bragg, cancer could not hinder her journey.
At age 23, and just one year into the histotechnology program, Bragg was diagnosed with metastatic thyroid cancer. She underwent a complete thyroidectomy, including the removal of several lymph nodes, and radiation treatment during a semester.
She did not miss a single class or lab.
"I was so close to finally receiving my degree, and I wasn't going to let a diagnosis take that away from me," said Bragg, who earned her bachelor's degree in medical laboratory science with an emphasis in histotechnology. "As I crossed the stage, I thought about everything I overcame to achieve this degree."
And what a day to do it. The Newell native walked in the School of Medicine Professionals ceremony on Sunday, Mother's Day. Bragg's mother also is a cancer survivor, having raised her and two siblings while working a full-time job.
"My mom helped me get through every exhausting moment," Bragg said. "I've thanked her so many times for listening to me complain about how tired and exhausted I was. I knew that once the treatment was over I would finally start to feel better and that's another thing that always kept me going."
Now 24, Bragg is preparing for her next move – a job as a histotechnologist at WVU Medicine's J.W. Ruby Memorial Hospital. There she will assist in the process of detecting diseases and infections in patient tissue specimens."
Read her full story, watch the commencement ceremonies and catch up on other School of Medicine graduates here: http://www.hsc.wvu.edu/commencement.