WVU's Women on Wellness retreat set for Nov. 12 in Greenbrier County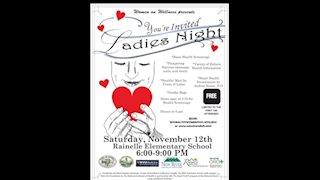 The annual Greenbrier County Women on Wellness (WOW) retreat, in partnership with The Greenbrier WOW Community Partnership planning committee and the National Center of Excellence in Women's Health at West Virginia University (CoE), will be held on Saturday, Nov. 12, from 6 p.m. to 9 p.m. at Rainelle Elementary School.
Doors open at 5:30 p.m. for health screenings and dinner starts at 6 p.m. with a presentation from keynote speaker, Andrea Nazar, D.O.
The Women on Wellness (WOW) retreats offer supportive community health programming that empowers and motivates women to make positive lifestyle changes for themselves and their families. In tune with WOW's message of personal empowerment, participants go through a three-part program of various activities meant to maintain, move, and nourish the body and spirit.
2016 sessions include a celebration of local foods, pampering stations and a variety of holistic health information. Free health screenings and health consults are also included. Ultimately, the goal is for women to walk away with less stress, plans for a support group, tools to lead a healthier lifestyle and the confidence and knowledge they need to make healthy decisions for themselves and their families.
"West Virginia is near the bottom nationally in almost all health measures, and the fact that the United States ranks 35th globally indicates that something is clearly wrong," Betty Critch, executive director of the CoE, said. "In response to this need, we developed a behavior change approach to healthy lifestyles, called Women on Wellness."
Registration is free for the first 100 people who register. Women can register online at www.wowicandoit.com or by calling 304-293-2895. Walk-ins are welcome to attend but seat is not promised.
The WOW event is funded by the West Virginia University Center of Excellence in Women's Health, the WVU Extension Service with support of the Foundation for the National Institutes of Health in partnership with the Heart Truth program of the National Heart, Lung, and Blood Institute.
The CoE at West Virginia University is a nonprofit organization focused on providing care to women at every stage of their lives. The West Virginia center is one of 20 located throughout the country. Unlike its sister centers, which are located in urban areas, the WVU Center of Excellence in Women's Health has a statewide reach.
For more information on WOW retreats, or to register, visit www.WOWICanDoIt.com, facebook.com/wow Greenbrier or call 304-293-2895.