WVU School of Dentistry partners with Center for Research and Technology Inc. to build, design Innovation Center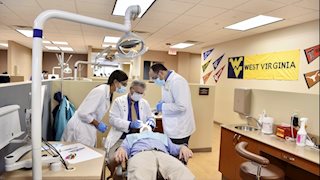 Center will feature state-of-the-art equipment, technology from industry-leading manufacturers to enhance clinical experience for dental students
The West Virginia University School of Dentistry today (Nov. 28) announced its partnership with the Center for Research & Education in Technology Inc. (CRET) to design, build and equip an Innovation Center in Morgantown. The Innovation Center will feature some of the most advanced dental technology available from manufacturers to enhance the student and patient experience.
WVU was selected as one of only three schools in all of the United States and Canada to have a CRET Innovation Center, which will feature newly developed, high-tech equipment valued at nearly $500,000. In addition to students and faculty, the center will be open to the state's private dentists, approximately 85 percent of whom are WVU School of Dentistry alumni.
"We are excited to enhance our dental curriculum with new technology and equipment, brought to us by CRET and dental manufacturers, that will enhance our students' training and clinical experience," WVU School of Dentistry Dean Anthony T. Borgia said. "With this new Innovation Center, our students will receive an unrivaled learning opportunity and be exposed to a variety of equipment and technology that will help them make informed equipment decisions in private practice, as they prepare to deliver the best in modern dental care to patients."
The Innovation Center, available to fourth-year students, will simulate a private practice, complete with a director, a separate reception area, 5-6 dental care units, auxiliary equipment for the newest restorative techniques and the latest in digital imaging technology. Located on the second floor of WVU Dental Care in the Suncrest Towne Centre, WVU's Innovation Center will also be available to alumni who would like to visit and observe equipment they might otherwise not have the chance to evaluate. For alumni and local practitioners, the school plans to offer continuing-education classes in conjunction with the space.
CRET Innovation Centers were also opened at Loma Linda (Calif.) University and the University of Missouri-Kansas City.
"The mission of CRET is to ensure that dental students and residents are able to incorporate new devices and materials into their overall curricula," said Don Hobbs, CEO and chairman of the board, CRET and vice president, equipment & technology, Henry Schein, Dental. "While receiving the very best in oral care, patients will now get to experience a wide variety of the latest dental treatment systems, thanks to manufacturing and supplier partners who are committed to exposing future oral health professionals with the best dental equipment and technology available on the market."
Center for Research & Education in Technology Inc.
CRET is a national nonprofit consortium of more than 20 dental equipment manufacturers and suppliers. As part of a unique partnership, CRET will provide cutting-edge equipment at no cost to the School, and fourth-year dental students will offer their feedback.
WVU School of Dentistry
The WVU School of Dentistry has been a leader in improving the oral health of the citizens of West Virginia and beyond since the School opened in 1957. The Innovation Center will serve to expand its commitment to excellence and innovation in patient care and education by making the most advanced technology in dental patient care available to its patients and students.
WVU Foundation
The WVU Foundation, founded in 1954, enriches the lives of those touched by WVU by maximizing private charitable support and providing services to the University and its affiliated organizations. It is currently conducting A State of Minds: The Campaign for West Virginia's University, which runs through December 2017.