Back to

News
WVU School of Dentistry student earns national leadership award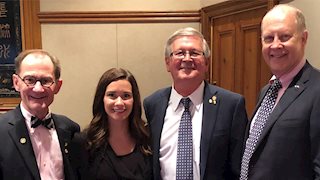 Congratulations to West Virginia University School of Dentistry rising junior Makayla Gresham. She was selected by the National American Student Dental Association's Board of Trustees as recipient of the 2018 Rising Leader Award.
She is president of the WVU American Student Dental Association.
Each year, ASDA recognizes a student who demonstrates leadership skills by serving their chapter, school, community or organized dentistry. These awards reflect ASDA's vision of advancing the dental profession by developing exemplary leaders who demonstrate the core values of passion, community, engagement and integrity.
Gresham will formally receive the award during ASDA's National Leadership Conference held November 17-18 in Chicago, IL.
Get to know Gresham
Where are you from?
Logan, WV
Where did you earn your undergraduate degree and what did you study?
West Virginia University, Bachelors of Science in Exercise Physiology
Why did you choose to pursue a DDS?
Since I was a little girl, I have always dreamed of becoming a dentist. However, when I was in high school, my 4-year-old cousin was diagnosed with Leukemia. I witnessed first-hand the effects that medications and radiation can have on one's smile and self-esteem, and I hope to help alleviate that for my patients in the future. It was this experience that gave me a passion for dentistry.
Why do you take on the added responsibility as an ASDA chapter president?
The American Dental Association and ASDA encompasses 166,000 dentists as well as students from 66 dental schools all over America. Together, we have a voice, and are able to lead our profession the ways that we see best as doctors, business owners and managers. Aside from this, the friendships I have made through ASDA are lifelong and so fulfilling. Organized dentistry is dear to me and has truly become a hobby of mine. I am so excited to help other students at WVU catch "ASDA Fever".
What's that job entail?
I think sometimes the President ends up being the "face" of everything, but it's easy to forget that the organization wouldn't run without the members. What you don't see are all of the chairs and committees and the tireless amount of work they put in. They make my job easy, and I just help to make their visions come to life. I try to bring fresh ideas and a new perspective, and help with accountability, but my Cabinet is extremely hard working and I am so thankful for their passion for ASDA.
How do you balance school and ASDA?
I started getting involved in ASDA from the moment I started dental school. I think I conditioned myself to prepare for my exams and studies in advance so that I could go on ASDA trips and really learn while I was there. It has helped me with time management, but it's also a break from school for me in a way.
How do you see yourself using your leadership and dentistry skills from WVU SOD in the future?
It is my hope that in 2019 I will serve as the ASDA District 6 Trustee. Aside from ASDA, I hope to attend a General Practice Residency upon graduating and eventually own a practice that serves the people of West Virginia. The skills I have learned thus far at WVU School of Dentistry are unequivocal, and I know I will provide the best possible care to my patients because of my time here. I'm excited for my last two years!
Why are you appreciative for being recognized as a Rising Leader?

I am most excited to shed positive light on our school. We are small, but we are mighty, and I think this helps demonstrate that. I am humbled by this award and so grateful that a group of leaders in my profession see the work that we are doing at WVU School of Dentistry and recognize the impact we are having. I am ecstatic!