WVU School of Medicine Alpha Omega Alpha honor society inducts new members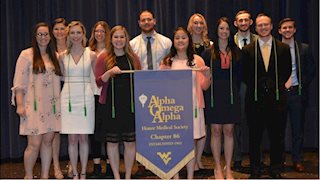 MORGANTOWN, W.Va. – Members of the West Virginia University School of Medicine classes of 2017 and 2018, as well as medical residents and faculty, were inducted into the Alpha Omega Alpha Honor Medical Society (AOA) on Friday, April 6.
"Worthy to serve the suffering," is the motto of the national honor society, and criteria for selection include scholastic excellence, as well as integrity, capacity for leadership, compassion and fairness in dealing with colleagues.
WVU's medical students do more than just learn about how to care for patients. They put their learning into action with community service projects around the area. The West Virginia Alpha Chapter of AOA is active in academic work, community service and social organizations such as Habitat for Humanity, Sundale Nursing Home and area schools. Alpha Omega Alpha members also tutor younger medical students in practicing for upcoming clinical exams.
"Our AOA inductees have distinguished themselves as leaders in academics, discovery of knowledge and service to the community," Norman Ferrari, M.D., vice dean for education and academic affairs and professor and chair in the WVU Department of Medical Education, said. This recognition is one of the highest honors for a school community to bestow on one of its own."
Alpha Omega Alpha is the only national medical school honor society and was organized by William W. Root, M.D. and five other medical students at the College of Physicians and Surgeons in Chicago, Illinois, in 1902. Eligibility requires academic rank in the top quartile of the class. Only one-sixth of a class may be elected to membership, with a maximum of one-half of this number elected in the third year of medical school.
The WVU School of Medicine supports the West Virginia Alpha chapter. This chapter was founded in 1962 as the 86th Alpha Omega Alpha chapter. It was organized to promote scholarship and research in medical schools; encourage a high standard of character and conduct among medical students and graduates; and recognize high attainment in medical science, practice, and related fields.
This year's inductees include: Class of 2018 medical students – Nicole Belko (Syracuse, NY), Ciara Brown (Fort Myers, FL), Kristen Catherman (Clearfield, PA), Stephen Kostelic (Clemmons, NC), Matthew Orlowski (Morgantown, WV), Emily Witsberger (Charleston, WV), and Logan Wolford (Ridgeley, WV) Class of 2019 medical students – Jeffrey Holmes (Hurricane, WV), Kristin Meigh (Wheeling, WV), Tina Nguyen (Martinsburg, WV), Tyler Overholt (Pocomoke, MD), Jessica Patterson (Bridgeport, WV), Trey Vanek (Dunbar, PA), and Zachary Werner (Wheeling, WV). Medical faculty – Hani Nazha, M.D. Medical school alumna – Emily Nease, M.D.
Featured speaker at this year's ceremony was WVU alumna Patrice Harris, M.D. Dr. Harris addressed inductees and their families at 4:00 p.m. at the WVU Health Sciences Center with the topic "From Marcus Welby to AI and Beyond: Physicians in the 22nd Century," followed by the induction ceremony at 5:00 p.m.
For news and information on the WVU School of Medicine, follow us on twitter @WVUMedSchool, like us on Facebook or visit medicine.hsc.wvu.edu.
-WVU-
Photo Caption: Students in the WVU School of Medicine Classes of 2018 and 2019 were inducted into the West Virginia Alpha Chapter of Alpha Omega Alpha Honor Medical Society on Friday, April 6 at the WVU Health Sciences Center.
Contact: Tara Scatterday
Director, Communications & Marketing
304-293-0630 | tdscatterday@hsc.wvu.edu