WVU School of Medicine Eastern Division Celebrates 2016 Graduates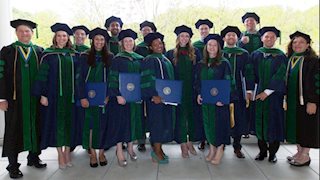 The Dean, Faculty and Staff of the WVU School of Medicine Eastern Division would like to congratulate the graduating medical students from the Class of 2016
The Dean, Faculty and Staff of the WVU School of Medicine Eastern Division would like to congratulate the graduating medical students from the Class of 2016, who received their Medical Doctorate certificates on Sunday, May 15, 2016, at a ceremony in Morgantown, WV.
These students completed their third and fourth year of medical school at the Eastern Division campus in Martinsburg, rotating through medical offices in Berkeley and Jefferson Counties, University Healthcare's Berkeley and Jefferson Medical Centers, and at the Martinsburg Veteran's Affairs Medical Center. Medical Student rotations are completed under the supervision of community physicians who mostly volunteer their time, with the approval of consenting patients.
The former students, now medical doctors, will be moving on to their chosen residencies this summer, as the final step to completing their medical education before practicing medicine. The length of each residency program varies based on the specialty – but lasts anywhere from three to five years or more, depending on their chosen field.
Since its opening in 2005, the WVU School of Medicine Eastern Division has graduated more than 100 medical students, many of whom return to the Eastern Panhandle to practice medicine after completing their residencies.
L-R- Back Row- John Grantham, Prashanth Sompalli, Travis Rearick, Michael Seem, Dustin Syvertson. Front Row- L-R- Konrad C. Nau, MD (Dean) Graduates- Lindsey Grantham, Sara Kurian, Virginia Horne, Rebecca Furby, Arielle Stafford, Samantha Johnson, Levi Stevens, Joshua Roach, and Associate Dean, Rosemarie Cannarella Lorenzetti, MD,. MPH . Andrew Lu.