WVU School of Medicine names Sarwari as new chair of Medicine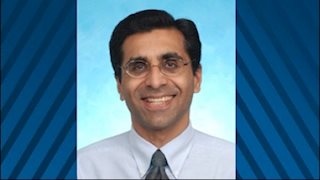 Arif Sarwari, M.D., infectious diseases specialist, has been named to lead the Department of Medicine. Dr. Sarwari has been serving as interim chair of the department for more than a year and administering the day-to-day operational management and oversight.
Sarwari formerly served an associate professor in the Section of Infectious Diseases in the Department of Medicine. He earned his medical degree from Aga Khan University in Karachi, Pakistan, and completed his residency in internal medicine at WVU Medicine-WVU Hospitals, where he served as a chief resident. He also completed a fellowship in infectious diseases at the University of Maryland, as well as a master of science degree in epidemiology and preventative medicine. Since returning to WVU as a faculty member, he has completed a master's degree in business administration.
Sarwari is the former medical director of the WVU Positive Health Clinic and serves as a consultant to the State Rapid HIV Testing program. He has been the recipient of numerous School of Medicine teaching awards such as Outstanding Teacher, Outstanding Faculty, Best Attending Physician, Clinician of the Year and was honored with the Herbert S. Waxman Award for Outstanding Medical Student Educator by the American College of Physicians. He will fill the post previously held by James Brick, M.D.
For news and information on the WVU School of Medicine, follow us on twitter @WVUMedSchool, like us on Facebook or visit medicine.hsc.wvu.edu.
—WVU—
Tara Scatterday
Director, Communications and Marketing
WVU School of Medicine
304-293-0630 | tdscatterday@hsc.wvu.edu