Back to

News
WVU School of Medicine using telemedicine to take mental health services to West Virginia's youth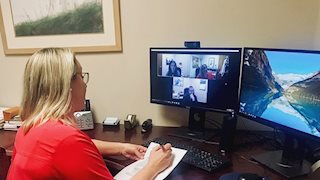 Children and adolescents in West Virginia now have access to mental health services via select school-based clinics across the state. Through telemedicine technology, West Virginia University Department of Behavioral Medicine and Psychiatry faculty deliver personalized mental health care to students who now don't have to leave school for their appointments.
Increasing access to psychiatry services through school-based clinics is invaluable, not only for introducing a pathway for treatment, but also because they're prevalent – West Virginia has one of the highest numbers of school-based clinics per capita in the nation.
"Historically, the cost of telemedicine equipment was a rate limiter in clinical availability. It is an exciting time, as we are now able to provide services in various clinical settings, including schools, for a fraction of the cost which is critical in our state," explained Kari-Beth Law, M.D., associate professor in the department and director of Telepsychiatry.
It's a valuable project, says Law and Ashley Workman, B.S.N., R.N., principal investigators on the grant, who say more than 70% of children and adolescents who have a psychiatric need might never receive specialized treatment. While using telemedicine as a modality of treatment, the hope is to lessen that number.
School-based health clinics provide a range of services that traditionally required children to miss school for treatment, including other routine medical checkups and dental needs. For behavioral medicine services provided via telemedicine, the provider and clinic site each log into a secure cloud-based platform. When it's time for the appointment, they are able to converse face-to-face in their clinic visit through web cams and microphones.
WVU telepsychiatry services have been provided since the program's inception in 2009. Under their current HRSA grant, which totals roughly $1.19 million over four years, they're continuing to refine and implement an evidence-based telehealth model designed to help some of the state's most vulnerable youth.
But according to Workman, the true power comes from collaboration that surrounds school-based health clinics. She explained that they've been well-received by clinical staff onsite, and they're fortunate that people who are deep-rooted in their communities are buying in to the importance of the service.
"One of our partners for this project, Phillip Barbour High School in Barbour County, has built a full-time behavioral medicine team through their school-based health clinic in order to continue to prioritize their students' wellbeing," said Workman, coordinator of telepsychiatry services. "We hope to continue collaboration for the youth and families of our state."
Federal funding for this project is provided by the Health Resources and Services Administration, a division of the United States Department of Health and Human Services.