WVU School of Medicine welcomes 125 new resident physicians to campus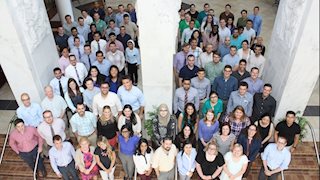 The West Virginia University School of Medicine recently welcomed a new class of resident physicians to the graduate medical education program.
Currently, there are more than 400 residents and fellows training within the WVU Medicine-WVU Hospitals system. Of these, 125 will begin their first year on July 1. The skills learned during the first year of training vary by their chosen specialty and build on the foundation given to students during their years in medical school.
"We are so pleased that our residency training programs are viewed as such exceptional learning opportunities that we were able to keep so many of our own students, as well as attract top medical graduates from across the country," said Norman Ferrari, M.D., vice dean of Medical Education. "Over half of our programs are the only ones in West Virginia that train a specific type of specialist so desperately needed across our state. Part of our mission is to train all types of specialists to meet those needs."
The current class of medical residents is practicing in 30 specialties, with internal medicine starting the most at 19. They represent 55 medical schools from nine countries, including Russia and Poland. There are 36 WVU School of Medicine graduates and five from the West Virginia School of Osteopathic Medicine in Lewisburg. The oldest resident in this cohort is 53 and the youngest is 25.
To learn more about WVU's medical residency training programs, visit the graduate medical education website at: medicine.hsc.wvu.edu/gme. For news and information on the WVU School of Medicine, follow us on twitter @WVUMedSchool, like us on Facebook or visit medicine.hsc.wvu.edu. Check wvutoday.wvu.edu and @WVUToday daily for the latest news from WVU.
-WVU-
Photo Caption: The 2016 cohort of resident physicians gather for a group photo in the Pylons area of the WVU Health Sciences Center. A group of 125 strong, the residents begin their first year of training on July 1.