Back to

News
WVU School of Nursing Charleston's Dr. Theresa Cowan Inducted to WVU Health Sciences 2019 Academy of Excellence In Teaching and Learning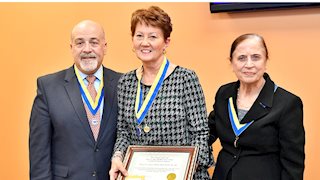 CHARLESTON, W.Va. – The WVU School of Nursing would like to congratulation Dr. Theresa Cowan, Chair of the WVU School of Nursing's Charleston Campus, on her recent induction into the WVU Health Sciences 2019 Academy of Excellence In Teaching and Learning. Dr. Cowan was recognized for her outstanding contributions to teaching during a ceremony on October 14, 2019 in Morgantown.
The WVU Health Sciences Center Faculty Development Program hosts the annual event which aims to advance and support education at WVU through innovation, collaboration, and scholarship.
Dr. Cowan is a graduate of the WVU School of Nursing and has been a past recipient of the 40 over 40 Nightingale Award, and Outstanding Faculty Awards for her teaching in 2001 and 2010.
Photo: Dr. Theresa Cowan is recognized for her outstanding contributions to teaching by Dr. Norman Ferrari, Vice Dean for Medical Education and Chair of the Department of Medical Education, and Dr. Rashida Khakoo