WVU School of Nursing dean re-appointed to state nursing board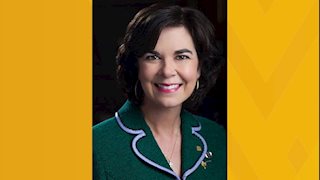 West Virginia Gov. Jim Justice has re-appointed Dr. Tara Hulsey, dean of the West Virginia University School of Nursing, to a five-year term on the West Virginia Board of Examiners for Registered Professional Nurses. Hulsey also was re-elected president of the Board.
"As our healthcare landscape continues to evolve, the West Virginia nursing board plays an important role in defining professional, academic and ethical standards for nurses in our state. Dean Hulsey is an innovative leader who is committed to nursing excellence, and she will continue to do an outstanding job leading this important group of professionals to address the needs and challenges this nursing profession," said Clay Marsh, MD, vice president, WVU Health Sciences.
The seven-member Board provides oversight of more than 32,000 registered nurses, advance practice registered nurses and dialysis technicians. The group is responsible for establishing professional standards and guidance for nursing practice; licensing; reviewing and approving nursing education programs related to initial licensure; investigating complaints; and supporting a monitoring and recovery program for registered nurses.
"I am extremely honored to continue to serve in this role. Nurses are integral to our healthcare system, and this board plays an important role in promoting and protecting the health, safety and welfare of our fellow West Virginians, as well as those who come to our hospitals and clinics for care. We have important work to do, and I look forward to working with my colleagues to ensure public safety remains the focus for our nurses," said Dr. Hulsey.
WVU School of Nursing faculty members Nancy Atkins and Teresa Ritchie also serve on the Board. Ritchie was elected secretary during the last meeting.
For news and information on the WVU School of Nursing, follow us on Twitter @WVUSoN, like us on Facebook or visit nursing.wvu.edu. Follow @WVUToday on Twitter.
For more information: Tara Curtis, WVU School of Nursing, 304-581-1772