Back to

News
WVU School of Nursing - Potomac State College Installs High-Tech Simulation Manikins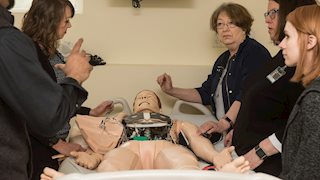 High-tech simulation manikins were recently installed in the new labs for the West Virginia University (WVU) Potomac State College Bachelor of Science in Nursing (BSN) program, located on the Keyser campus.
As the first group of PSC students enter the BSN program this fall, they will learn nursing skills in high-tech simulation labs and a six-bed skills lab, both of which are nearing completion. They will practice the skills they learn on nine manikins, including a simulation baby, that will perform a variety of functions to augment nursing students' learning, including pulses and other vital signs; heart and lung sounds; heart rhythms; pupil changes; and bowel sounds.
"The WVU School of Nursing is fortunate to have simulation labs made available to our BSN students on the Beckley and Morgantown campuses, and now our WVU Keyser Campus," said Tara Hulsey, PhD, RN, CNE, FAAN, who serves as vice president of Health Promotion and Wellness at WVU, and dean of the WVU School of Nursing. "The simulation labs provide a safe practice area for students different from what they receive in a typical classroom setting and help our students become confident, skilled nurses."
The manikins, which have very human-like functions, can be controlled in manual or automatic mode, speaking some words and phrases, crying, moaning, and screaming to augment real-life health situations.
In addition, each bed unit will be equipped to mimic what the student sees in the healthcare setting in order to learn in the most realistic environment possible, including an electric medical-surgical hospital bed; simulated oxygen/air/suction headwall; IV pump; feeding pump; and other healthcare-related equipment.
Students will also learn to draw blood, insert IVs and urinary catheters, and perform other nursing skills on manikins and other healthcare simulation models.
"We are so excited about our simulation labs and the products we have purchased," stated April Shapiro, PhD, RN, Potomac State College BSN chairperson. "Keyser nursing students will be learning 21st century nursing interventions and critical thinking skills from experienced faculty in a high-tech environment that will prepare them for the complex patient care required in today's demanding healthcare environment. Students will further refine their skills by providing hands-on care in a variety of clinical sites guided by faculty and precepting nurses. Our students will be ready for the real world."
For information about the WVU School of Nursing program on the Keyser campus, contact Dr. Shapiro at ashapiro@hsc.wvu.edu or by calling (304) 788-7176.