WVU School of Nursing to offer in-state tuition to all students in RN-BSN program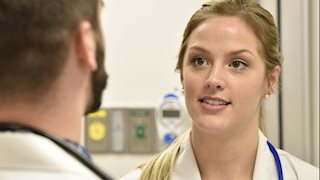 As hospitals and other healthcare organizations across the country work to address the need for highly trained nurses, the West Virginia University School of Nursing is doing its part to address those demands. Beginning in fall 2017, the School will offer in-state tuition for all students (regardless of residency) to enhance professional opportunities for nurses through the online Registered Nurse to Bachelor of Science in Nursing (RN-BSN) degree program.
The RN-BSN program – done completely online – provides students with additional educational and learning opportunities which not only make them more attractive for promotions and unique professional opportunities, but also addresses a call to action by the Institute of Medicine's 2010 Future of Nursing report to increase the number of BSN prepared nurses to 80 percent by the year 2020.
RNs are valuable assets to healthcare organizations, but as Tara Hulsey, dean of the WVU School of Nursing noted, educational institutions must respond to the need for continued education of nurses to deliver safe, quality patient-centered care. "Many healthcare organizations want nurses who have both a strong educational foundation and experience to address complex issues facing patients. Through our online RN-BSN program we can provide nurses with additional skills and competencies via an excellent, flexible academic program, while also helping address the growing academic demands hospitals and healthcare organizations require from their nurses."
The School of Nursing continues to monitor the ever-changing healthcare landscape to ensure students receive a strong educational foundation and necessary training to care for patients. In 2016, the School of Nursing rolled out an enhanced graduate program to increase the number of graduates in the Doctor of Nursing Practice program in response to the Institute of Medicine's report which also calls for doubling the number of nurses with doctorates by 2020.
"Highly skilled, highly trained nurses are integral to the future of patient care. Our faculty and students continue to raise the bar every day to ensure that we are meeting our mission of service to our state, nation and world. We will continue to identify unique, innovative opportunities to prepare them for the critical role they play in healthcare," said Hulsey.
For news and information on the WVU School of Nursing, follow us on Twitter @WVUSoN, like us on Facebook or visit nursing.hsc.wvu.edu.
For more information: contact Tara Curtis, WVU School of Nursing, 304.581.1772
tec