Startup invites health professionals and public to opening Oct. 4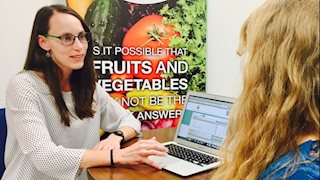 MORGANTOWN, W.Va. – WVU President E. Gordon Gee will officially welcome healthcare startup Good Measures to the University campus in October.
The Boston-based company established an office earlier this year at WVU's Health Sciences Innovation Center, located at the Blanchette Rockefeller Neurosciences Center building on the Health Sciences campus. Good Measures is holding an open house there from 4:30-6:30 p.m. Oct. 4.
Good Measures is a pioneer in the field of personalized nutrition counseling and combines clinical and behavior change expertise with advanced digital technology to help patients better manage eating and exercise habits and achieve better health, according to their CEO and co-founder, Dr. George Bennett.
"Good Measures delivers high-impact registered dietitian services to many bariatric and hip and knee surgery patients referred by WVU Medicine physicians," Bennett said. "The increasing popularity of our services with both patients and physicians convinced us to open our first office in Morgantown."
Good Measures' registered dietitians and certified diabetes educators support individuals in lowering their health risks, managing conditions such as diabetes and cardiovascular disease, and avoiding hospital readmissions. Their clinicians are also studying the effects of nutritional and lifestyle support on patients with hypertension, high cholesterol, and pre-diabetes.
"We are celebrating the opening of this first of several planned offices in West Virginia," Bennett added. "The Health Sciences Innovation Center is an ideal location for this first office – a convenient location for patients, and close to other organizations working in West Virginia to commercialize ideas that can change health care in the U.S. Our increased presence will help the University advance its mission of improving the health of West Virginians."
President Gee will speak at the event about the role of WVU's external partners in growing West Virginia's education, healthcare and prosperity.
Also participating in the event will be Clay Marsh, M.D., WVU vice president and executive dean for health sciences, Sally Hodder, associate vice president for clinical and translational sciences, and Richard Giersch, director of the Health Sciences Innovation Center.
—WVU—
bc: 9-22-16
For more information, please contact Bill Case, WVU Health Sciences, 304-293-8045 or bill.case@hsc.wvu.edu.