WVU to Host 42nd Annual Hal Wanger Family Medicine Conference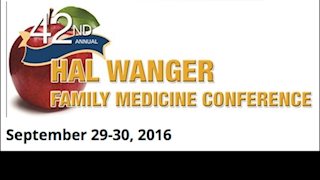 The West Virginia University School of Medicine's Department of Family Medicine is hosting the 42nd Annual Hal Wanger Family Medicine Conference Sept. 29 - 30 at the new Holiday Inn, Morgantown.
The conference's speakers will address a variety of topics of interest to family physicians, nurses, and other healthcare providers. Among the more than 24 topics to be covered during the conference are: pharmacologic management, thyroid nodule evaluations, rural practice, Zika virus, Attention Deficit Hyperactivity Disorder (ADHD), Chronic Obstructive Pulmonary Disease (COPD), and more.
Additionally, this year's conference will feature a variety of hands-on workshops led by experts in their field, including a "make and taste" experience entitled "Introduction to Culinary Medicine for Physicians" lead by Rosemarie Lorenzetti, M.D., M.P.H. and colleagues, where attendees will participate in a cooking class while learning how to appropriately counsel patients on the use of food as medicine. All remaining food will be donated to the Ronald McDonald House.
This year's Mesaros Distinguished Speaker honoring Drs. Paul and Laura Mesaros is Larry Rhodes, M.D., professor in the Department of Pediatrics and director of Rural Programs. Dr. Rhodes will present on the "Joys and Challenges of Rural Practice," where he will describe recent trends and developments in rural practice impacting family physicians.
"Each year, we bring to our colleagues up-to-date, evidence-based clinical information that enables them to provide the best possible care to their patients in West Virginia," Dana E. King, M.D., co-director of the Hal Wanger Conference and professor and chair of the WVU Department of Family Medicine, said. "This year will be no exception."
"This conference has been a wonderful tradition for 42 years, and we are looking forward to its continued success," G. Anne Cather, M.D., co-director of the Hal Wanger Conference and professor in the WVU Departments of Family Medicine and Community Practice, said.
The conference is named in honor of Halvard Wanger, M.D., who organized an extensive scientific assembly to celebrate the Eastern Panhandle Medical Association's 50th anniversary in 1956. Dr. Wanger directed the annual Institute through 1974. When Wanger canceled the Institute in 1975 because of health reasons, the WVU Department of Family Medicine assumed responsibility for continuing the fall conference.
The deadline to register for the conference is Sept. 22. For more information on the conference, including registration, lodging and continuing education, visit:
http://medicine.hsc.wvu.edu/fammed/hal-wanger-family-medicine-conference/.
For news and information on the WVU School of Medicine, follow us on twitter @WVUMedSchool, like us on Facebook or visit medicine.hsc.wvu.edu.