WVU trauma surgeon named president of international surgical society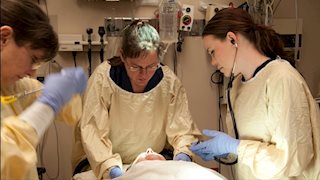 Alison Wilson, M.D., F.A.C.S., director of West Virginia University's Institute for Critical Care and the Skewes Family Chair for Trauma Surgery in the WVU School of Medicine was recently named president of the Michael E. DeBakey International Surgical Society at the organization's annual meeting June 22-25 in Fajardo, Puerto Rico.
Founded in 1976 with the goal of providing a forum for international scientific exchange and for recognizing superior surgeons, the Society was named for renowned cardiovascular surgeon, medical inventor, statesman and teacher, Michael Ellis DeBakey, M.D.
Dr. Wilson is also the director of the Jon Michael Moore Trauma Center and Surgical Intensive Care Unit at WVU Medicine Ruby Memorial Hospital. She leads a team that cares for more than 3,000 trauma patients each year. She treats patients that arrive directly from the scene of an accident and those who suffer from catastrophic life-threatening illnesses.
Wilson received her medical training and completed a surgical residency and a critical care fellowship at Baylor College of Medicine in Houston. She is a member, and holds leadership positions in, several surgical and trauma professional societies.
For news and information on the WVU School of Medicine, follow us on twitter @WVUMedSchool, like us on Facebook or visit medicine.hsc.wvu.edu.